Anxiety or sleeplessness is understandable in the current climate. In fact, it is almost the norm. Wrapping yourself and your spouse in the best weighted blankets for couples is a healthy way to cope with your anxieties. 
Weighted blankets offer therapeutic benefits by simulating the effects of deep pressure therapy. This pressure causes endorphins to be released. Endorphins are feel-good hormones that elevate mood and reduce feelings of stress.
Can a couple share a weighted blanket?
Couples can share a normal blanket without facing any issue but sharing a weighted blanket can be tricky as weighted blankets are to be used according to the weight of a person. When used by two people together, it can irritate one of you due to its weight. For one, the weight may be too much, while for the other, it may be too light.
But, if there's no big gap in the weight of a couple, then you are good to go. We will also be discussing a blanket that innovatively solves this problem.
Related: Best Value Weighted Blankets | Best Cooling Weighted Blankets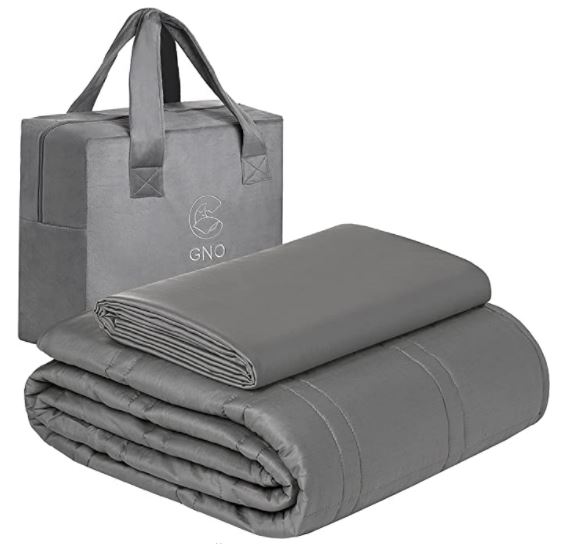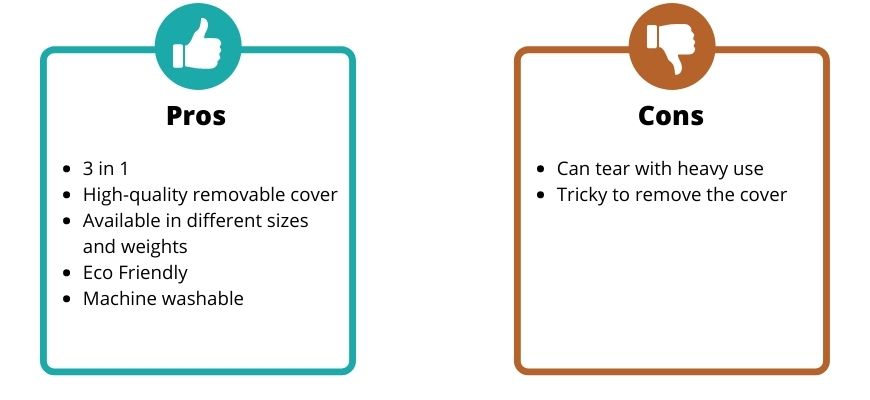 ---
The GnO Adult weighted Blanket with Removable Bamboo Cover is our today's pick. It is made using high-quality 100% organic Oeko-Tex certified cotton that keeps you cool while letting you cuddle with your spouse. Standard 100 by OEKO-TEX is one of the most trusted certifications in the world which tests raw materials, intermediate and end products (at all stages of production) for harmful substances. It is a symbol of customer confidence and high product safety.
The blanket comes with a bamboo cover that is super silky and breathable. This cover helps to keep the blanket clean helping elongate the life of the blanket. While reviewing the product, our reviewers machine-washed the cover, and it came out with zero issues after the wash. 
You also get a plush carry bag to keep this enormous weighted blanket by your side while going on a trip.
GnO has been serving in the blanket's space over the years; here's what Amanda says about the product; 
"The blanket arrived today in a velvet storage/carrying case, which looked very luxurious. The blanket material is so soft and is almost identical to silk. I'm absolutely in love with it. "

Anna Wilde (Amazon Customer)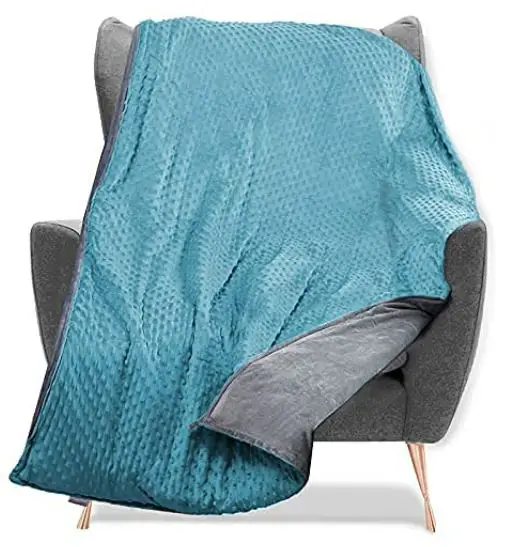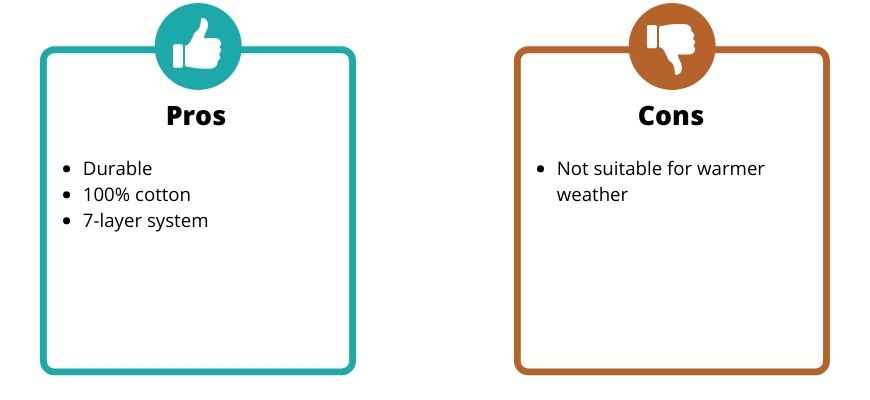 ---
Quility weighted blanket includes a 100% Polyester Duvet Cover to keep it dust-free. You can wash the cover in your washing machine without any fear of losing quality. To select the appropriate size, we recommend opting for 8 to 10 percent of the total body weight of you and your better half to get the maximum benefit.
Glass pellets give the weighted blanket its weight. The weight is distributed evenly to apply consistent pressure for a comfortable experience for both of you. Similarly, we found that the beads also move easily when you turn while sleeping, making it easy to move around while under it.
What did we like about this product? While reviewing, we liked its 7-layer system that helps in its breathability. The use of cotton adds to this and keeps the blanket quite cool but we would still not recommend it for use in warmer weather.
Like GnO, Quility also has gathered a big fan base, and one of its loyal customers Michael Heck states:
"…We could not have asked for a better blanket. It did take a little getting used to, but my husband and I share it on our queen sized bed and it has helped us sleep better through the night. So much so that I even purchased the navy blue smaller size for downstairs on the couch for when we fall asleep watching tv…"

Sarah Bowler (Amazon Customer)
---
HomeSmart, as its name suggests, offers meaningful accessories for your home. Their weighted blankets are no different. It is designed to help you relieve stress and feel calm when you wrap yourself and your spouse in it.
A 400-thread count organic cotton fabric is stitched with glass beads to give the HomeSmart Products Weighted Blanket its weight. The beads — and therefore weight — are evenly distributed throughout the blanket by way of several compartments. Approximately 5 by 5 inches are the pockets.
But what's unique here? Do you remember we mentioned a blanket with an innovative design. Well this is it! HomeSmart really introduced something smart here. Even though, the overall weight of the blanket is 25 lbs, it is split into two sections. One half of the blankety weighs 15 pounds while the other half weighs just 10 pounds and this makes it a perfect solution for couples looking to share a weighted blanket. 
Another thing to focus on is the premium design. The weighted blanket consists of a double stitched diamond pattern with 10 loops along the perimeter to attach a duvet cover for easy care. Keep in mind that we've reviewed the 88" x 104" king-size 20 lbs blanket and we think this blanket gives you value for its price. 
Want to hear from a customer? Here's what Kimmy has for you;
"It's fantastic! It's helped with my anxiety and nightmares and to fall asleep quicker. The fabric is very comfortable, it's breathable but also can keep some warmth in."

Eesha Bennett (Amazon Customer)
Takeaway
The GnO, our top pick, it comes with a washable cover, the softest, silky material for cozy nights, and a travel bag that makes it convenient for everyone. It should be your go-to pick if you're a travel enthusiast and want the best-weighted blanket for couples that is easy to carry.
If you have already used weighted blankets with your partner and have found them difficult to manage, try out the blanket by HomeSmart. Their fresh approach will be comfortable for both of you for sure!