Are you looking for the best blankets for your pets to make them feel warm, safe, and happy? If so, you're at the right place. We will guide you about the best pet-friendly weighted blankets available in the market. Weighted blankets, also called calming blankets, are somewhat different from comforters in that they can decrease anxiety and give a soothing hug-like feeling. They can be the best comfort partner for your pets!
Like with humans, weighted blankets help relieve anxiety levels by balancing serotonin and cortisol levels. They offer immediate cognitive and psychosocial calm. Of course, your use will depend on your animal's symptoms and the cause of their anxiety. Removing the source of their stress may be the ultimate solution but it's not feasible at all times. After all, you can't do anything about the fireworks outside, neither can you avoid a necessary trip in the car.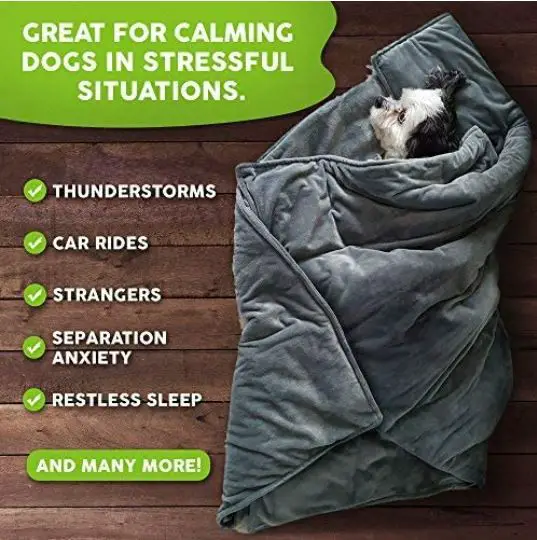 ---
The weighted blanket Canine Coddler comes with a 100% money-back guarantee and is a premium product in the category of anxiety blankets for pets. The blanket applies a warm, soft pressure, comparable to an embrace to decrease tension, panic, and restlessness. This touch of deep pressure calms the emotions of dogs and cats.
During car travel, many pets tend to become anxious or worried. Canine Coddler helps to decrease their stress. The calming blanket can also effectively provide respite from stress inducers like fireworks, automobile horns, and shrieking people and provides comfort in times of unexpected discomfort.
A part of every purchase from Canine Coddler helps unprivileged households to pay for a vet to show the brand's dedication to pet care.
This blanket is dark grey and is 36" x 84" in size. It is available in weights of five pounds (for small pets) and seven pounds (for larger pets). A friendly customer care team is available to make sure you are completely satisfied with your purchase.
The blanket comes with a detachable machine washable cover that makes the blanket incredibly easy to care for. The coverings are made using durable and soft material for maximum comfort. The blanket is packed using non-toxic PVC pellets to give the blanket its weight. The cloth is divided into pockets to confine the pellets to where they are supposed to be. It provides great value and convenience.
Here's what McHalf had to say about the blanket:
"We were having trouble training our 70 lb. almost 2 yr old boxer, Whitley, to sleep in his bed. This meant we were not getting a restful night of sleep. He would sneak into bed with us after we'd fall asleep. Since purchasing this blanket, he sleeps 95% of the time in his bed! Sometimes he'll wake up and get out of bed to shake, but he just wants covered back up."

Frederick McHalf (Amazon Customer)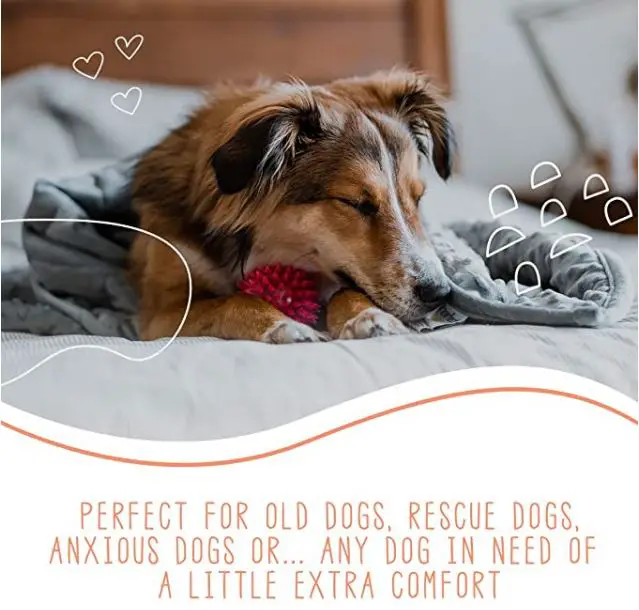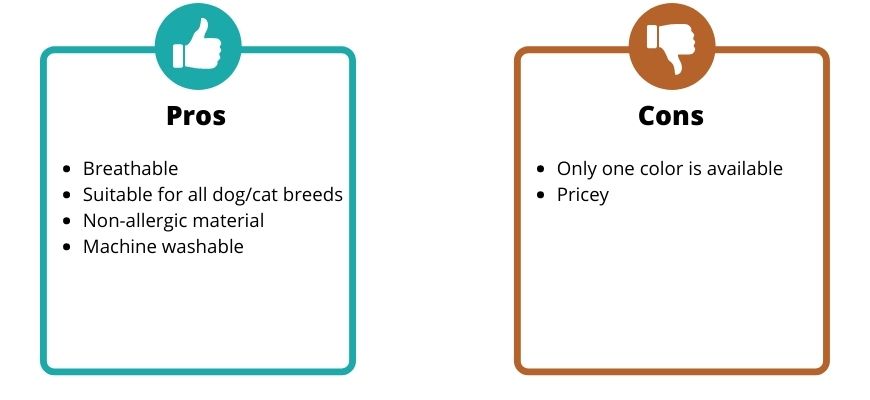 ---
Pets provide us with comfort, making us joyful, and you would obviously want to provide your pet with the same. The Pawfect Blanket surrounds your pet with gentle and consistent pressure to mimic a warm snug embrace. Your pet will definitely feel cozy and safe while cuddling with it.
It is one of the softest options out there: made with premium Minky fabric that is softer and cozier than microfibre, sherpa, or fleece. It is the same kind of fabric that is used to manufacture teddy bears. This blanket has been tested to not cause any skin problems or allergies.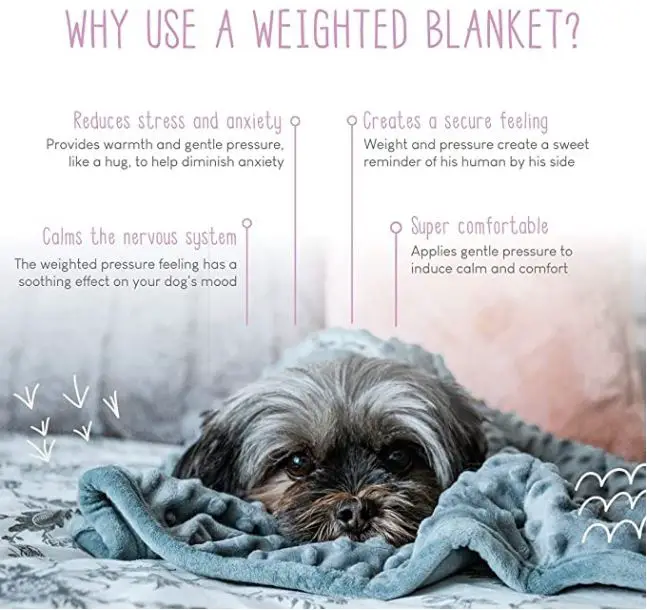 Like a kid with his beloved 'blanky,' the Pawfect blankets are a perfect sleeping companion for pets! It is sturdy and well-built. It can be an adorable floor pad for your pet or thrown over them while they sleep. Maintenance is quite easy as you can put it in the washing machine with cold water and it gets clean without any extra effort.
This blanket comes in three sizes and three colors, namely grey, brown, and yellow.
Here's a review from a customer on Amazon:
"Love everything about this blanket. My dog has bad anxiety and loves being under a blanket any time he is sleeping. This makes him feel safe, and he doesn't move once he's under it. Highly recommend for any dogs that love to be covered up."

Neve Guerra (Happy Pawfect Customer)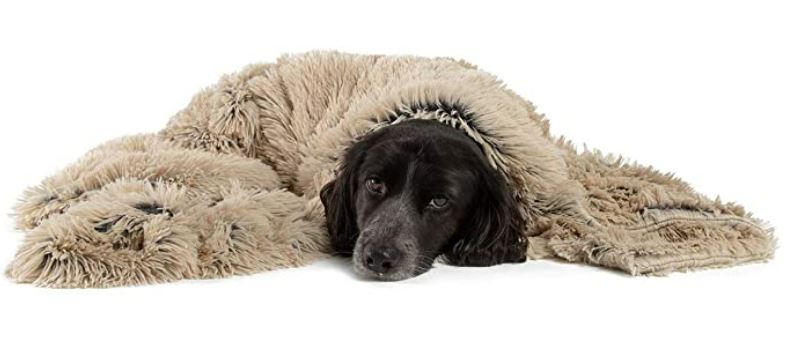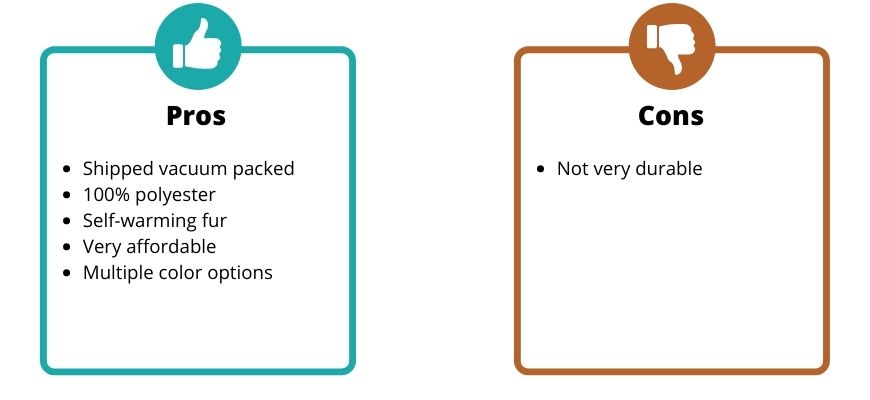 ---
If left alone for a long time, pets can acquire anxiety separation. Some pets can be more susceptible to this and may seem very clingy at times. The Sheri Luxury Throw blanket makes your pet feel comfortable and protected when you are at work or not at home. In your absence, it can provide comfort and assurance to your pet.
It can be the best natural sleeping treatment for restlessness. It is soft and comforting, making it a good place for those animals that enjoy curling up when they sleep. This blanket pairs excellent with their Donut Cuddler Dog and Cat Bed but can be used on its own as well: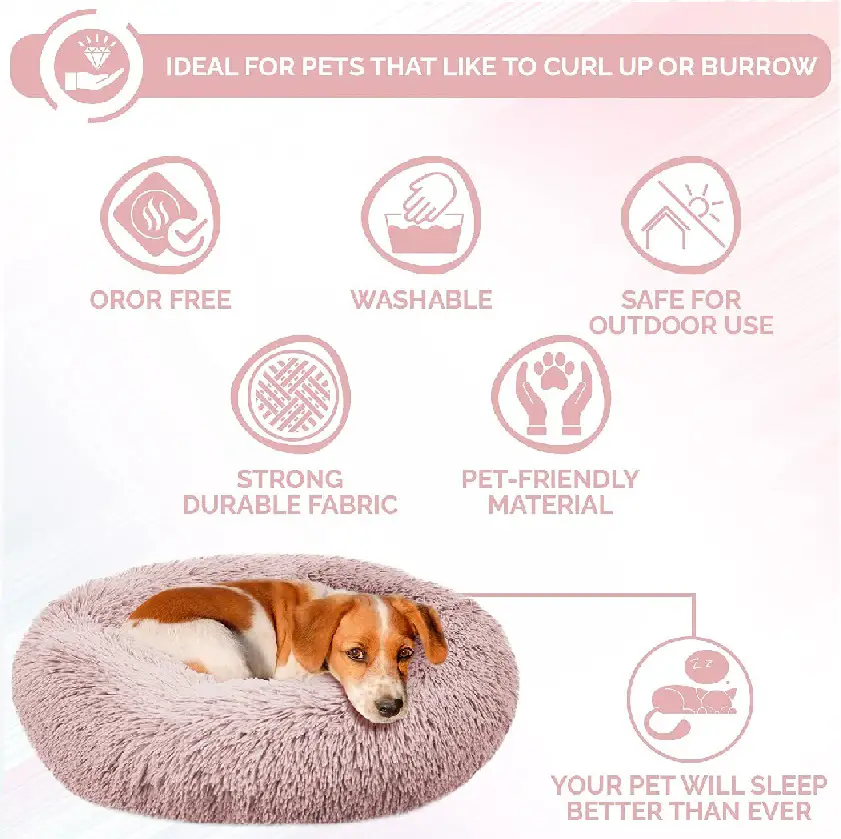 These fur blankets are available in lovely natural hues, making them seamlessly complement any home décor. They are also machine washable and safe for dryers, making them a no-fuss addition to your house.
They are also very versatile. It can be a warm blanket for your pet in cold weather. You can spread it out to form a bed, you can throw it over a couch or furniture to prevent your pet from making them dirty, or you can use it to comfort your pet on the go, whether in a vehicle or a carrier.
There are two sizes available: 30 by 40-inch and 40 by 50-inch. Here is what a very satisfied customer on Amazon says about this blanket:
"These blankets are absolutely amazing. I bought 2 of them and threw one of them out on the floor and all 4 of my Maltese dove on it and I could tell they were loving on it. Rubbing their faces on it, digging, hard to explain. It was like catnip to a cat but in a loving way. Even my grouchy 2-year-old male jumped on it first and didn't want to share. He looked soooo happy!"

Mercy Garner (Amazon Customer)
Takeaway
If your pet is struggling to find comfort, a weighted blanket is a smart purchase. However, you should select a weighted blanket that fits the size of your pet to provide the most advantages. You should also ensure that your pet can move around freely when under it.
The Canine Coddler is the highest recommended among the three blankets mentioned above due to its premium qualities and reasonable price range. It is the best choice for your loving pet. Just make sure to buy the appropriate size and weight for your pet!