Knitted weighted blankets are a new kind of calming blanket. They utilize thick and heavy yarns instead of glass or plastic beads to give the blanket its weight.
If you were to picture yourself in a cozy setting, you would likely be imagining yourself wrapped in a warm hand-knit blanket, with a cup of coffee in your right hand and a book in your left.
There's a reason hand-knit blankets have become synonymous with coziness. Not only are they extremely aesthetic, but there is also just something very comforting about a knitted blanket.
Why get a heavy blanket?
Weighted blankets use deep touch stimulation to relax your nervous system. In simpler words, its weight applies pressure on your skin which constantly activates your nervous system. This stimulation boosts the release of serotonin and melatonin in your brain. Serotonin is a chemical that scientists have linked to happy moods, while melatonin is responsible for regulating your sleep cycle. As a result, people using weighted blankets while sleeping report improved sleep, better mood, and a sense of relaxation the next day.
If you aim to improve the quality of your sleep or increase comfort while unwinding at home, a weighted blanket should be on top of your list!
Why choose a knitted weighted blanket?
Breathable
Weighted blankets often consist of multiple layers stitched or quilted together. Depending on the blanket you choose, these layers can include cotton, wool, glass beads, or plastic pellets. Multiple layers make them very warm as air cannot easily pass through them.

In contrast, holes throughout the surface of knitted blankets make them very breathable. They neither retain too much heat nor do they let out too much. This versatility makes these hand-woven blankets ideal for use in all seasons and throughout the day.
Even weight distribution
Most regular heavy blankets depend on glass pellets or plastic beads to give them their weight. These materials are arranged in patterns and stitched into the blanket. However, sometimes they can move within the blanket, causing uneven weight distribution. It can become quite annoying when the blanket loses its consistency.

Knitted blankets solve this problem by utilizing the yarn for the added weight. This difference allows for even weight distribution, which cannot be moved around. It also makes it more durable as the knitting can easily last you years.
No choking hazard
Wear and tear can cause regular fillings in weighted blankets to leak out. This leaking disturbs the weight distribution of the blanket but, more importantly, acts as a choking hazard for children and pets. Knitted heavy blankets are a safer alternative if you intend to use them around pets or children.
Beautiful
There is no denying it. Knitted blankets are gorgeous and can add a bit of life to your living room, bedroom, or dorm. Along with that, they can help you relax, curb anxiety, recreate a hugging sensation, and improve sleep quality. It is an absolute win-win situation.
Related: Best Machine Washable Weighted Blankets | Best Looking Weighted Blankets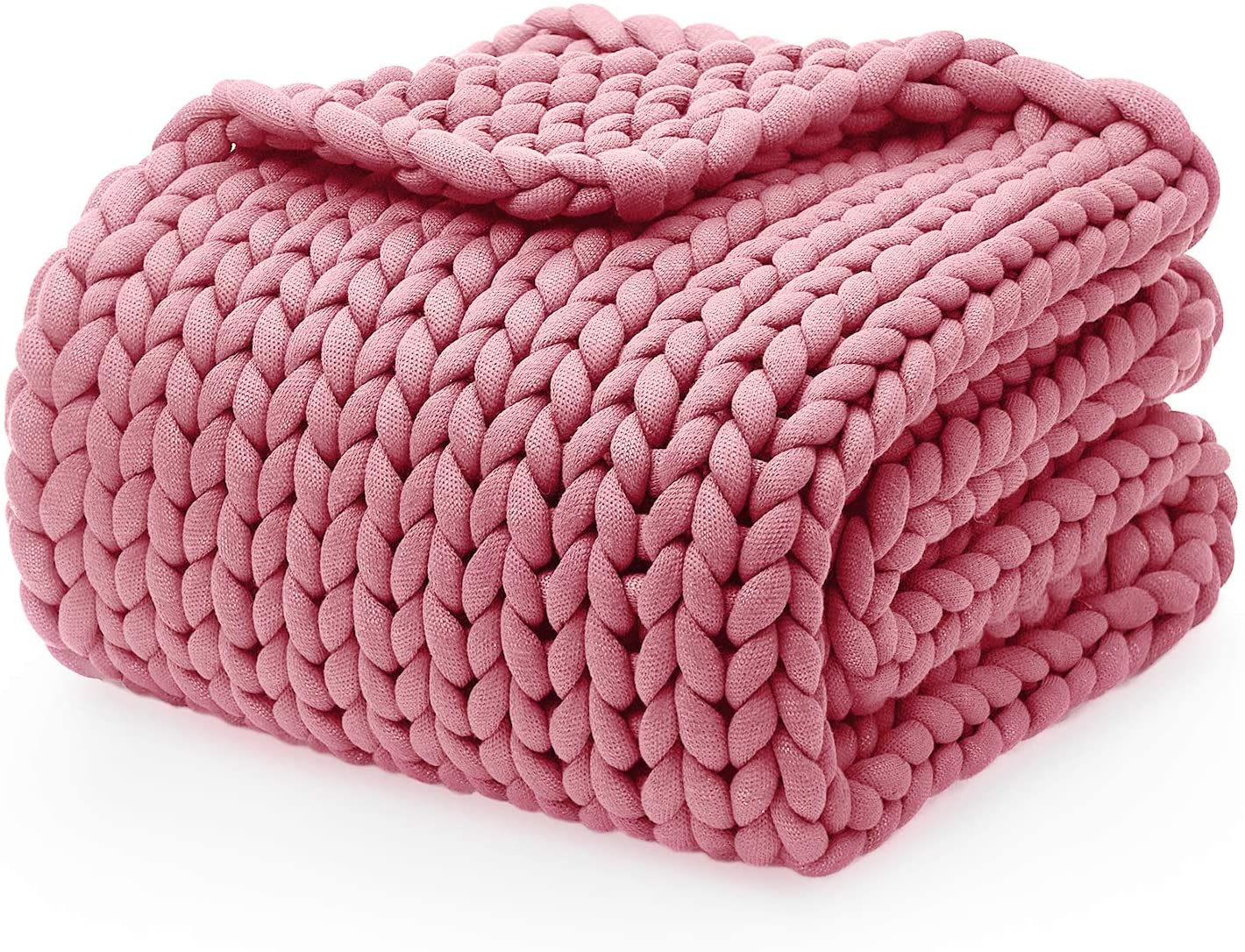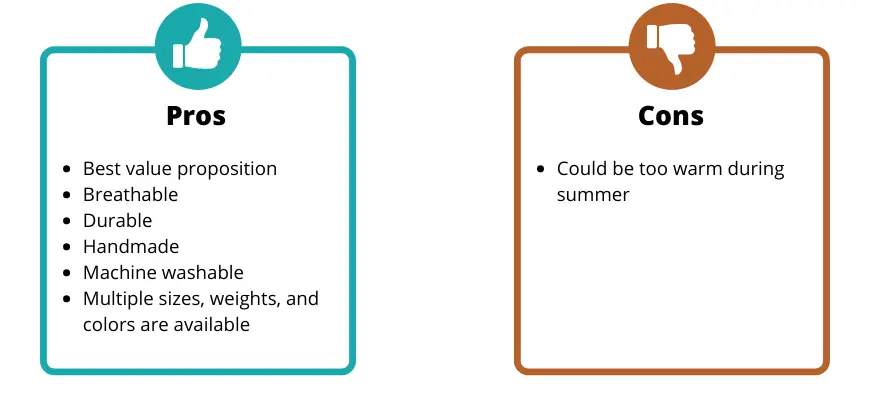 ---
YnM is a company that specializes in producing everything you will ever need for a good night's sleep. They create various products to cater to all sorts of customers, and their knitted weighted blanket is no different. It is available in a whopping eighteen colors. The colors include avocado green, Prussian blue, cream, blue, dark grey, light grey, lake green, orange, pink, french silver, purple, white, yellow, and Wineberry.
Each calming blanket is hand-made and adjusted for perfection. The material used is chunky yarn filled with a hundred percent hollow fiber, making the blankets sturdy and long-lasting. It is also machine-washable for maximum convenience and tested for all skin types, so you do not have to worry about sensitive skin.
The YnM Knitted Weighted Blanket comes in five sizes, from small sizes for children to one for a queen-sized bed.
Here's what a customer had to say about the blanket:
"Just GORGEOUS. If I need more weight when it gets colder I can easily lay it over my other throw or bed blanket and not be overheated or feel pinned down."

Firat Luna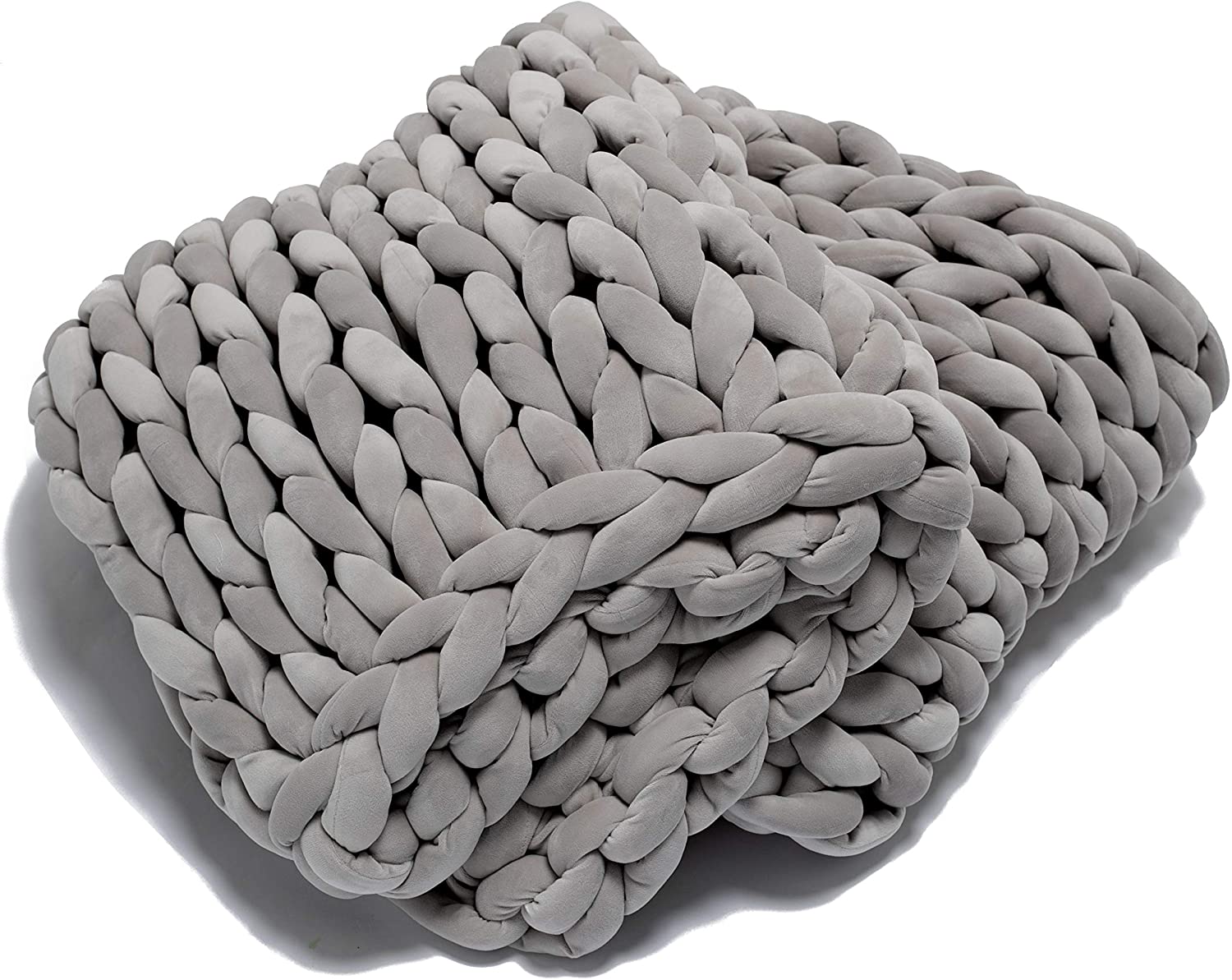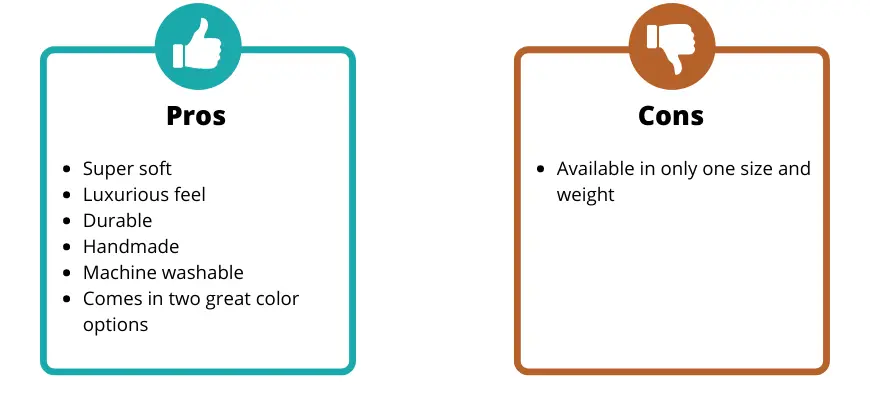 ---
ColeyBear's Chunky Yarn Blanket is a giant grey plush bed cover making it very splurge-worthy. If you are looking for nothing but comfort, this one should be your top choice.
Hear it from Sue:
"This blew me away. The chunky knit is lovely, warm but not too warm and very nice weight and size. The softness was a huge plus that I was not expecting! It's like the texture and feel of your favorite stuffed animal woven into a fabulous weighted blanket. Absolutely love it."

Sue Watson
On the downside, it does come in only one size and weight: 60 by 80 inches weighing 15 pounds, making it perfect for a queen-sized bed. You do have a choice of colors, though. It is available in light gray and cream colors.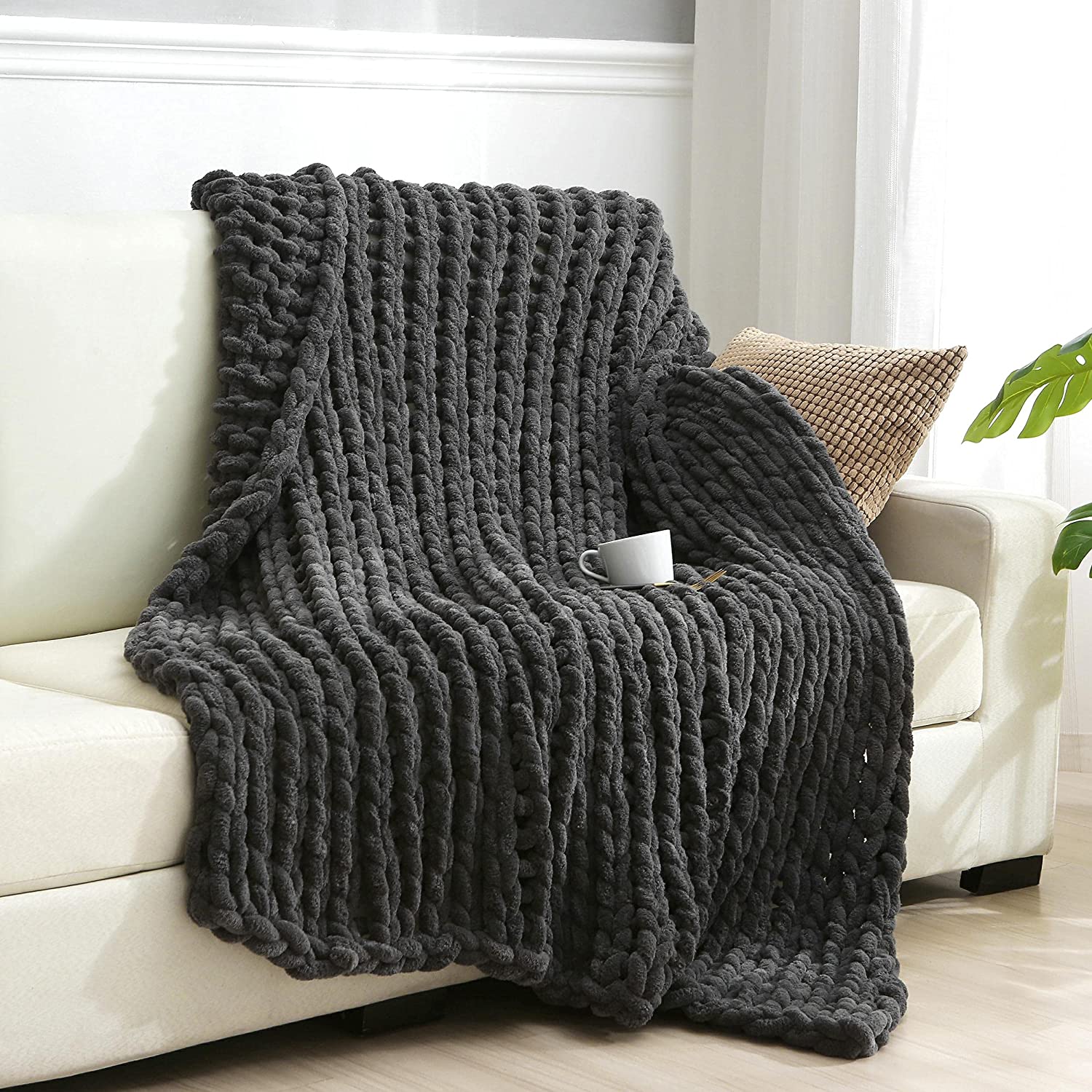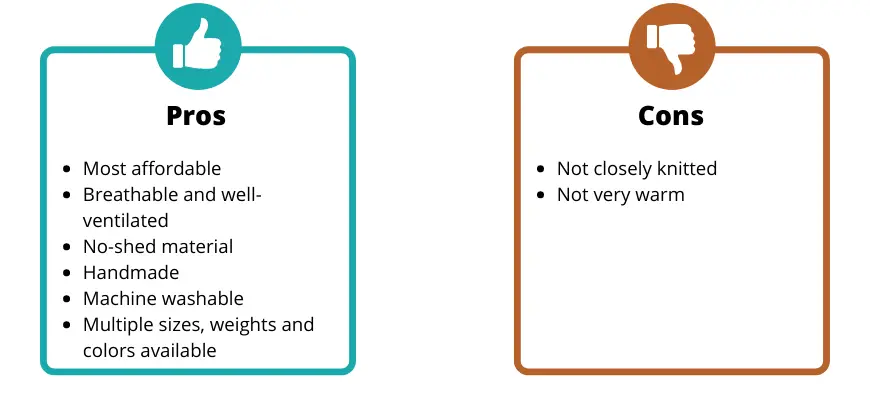 ---
The Chunky Knit Throw Blanket by Zonli is the most affordable option when it comes to knitted calming blankets. However, do not let the affordable price tag fool you! Made from extra-dense tight knits of chenille yarn, the blanket is amazingly soft and cozy. This silky soft weighted blanket is the ideal cuddle buddy for your sofa or bedroom! It comes in the 60 by 8- inch size only in gray color. There are two weights available:
Both options provide amazing value for your money.
Here's what James has to say about his purchase:
"This blanket was rated best seller in 2020. You won't find one bigger for the price. Super soft and nice and heavy. The wife loves it. A win-win."

James Carlton
For convenience, the blanket is machine washable. It is also no-shed and completely safe for all kinds of skin.
Conclusion
So which knitted heavy blanket should you get? For most people, we would recommend going for the blanket by YnM. The company is known for its quality, and this knitted blanket is no exception, you cannot go wrong with it. With all the size and color options available, there is one for everyone looking to buy one.
If you want to take the luxury a step up, the knitted blanket by ColeyBear should be your choice. Its plush material gives it a super luxurious and cozy feel.
If you want to try a knitted blanket but don't want to spend a lot of money, you should go for the Chunky Knit blanket by Zonli and be confident you are not missing out on anything. Its quality is up to par with much more expensive competitors.