A good night's sleep is a luxury sought by many but obtained by few. Weighted blankets help provide a therapeutic solution to troubled sleepers. It does so by deploying deep pressure therapy, first discovered by Temple Grandin. She termed it as a ' hug machine' or 'squeeze machine' initially aimed to help people on the autism spectrum. In this article, we look for the best value-weighted blankets out there currently in the market.
What is Deep Pressure Therapy?
The principle of deep pressure therapy (DPT) is to use a firm yet gentle pressure similar to a hug or human touch to bring a sense of calm or security. Individuals with anxiety or autism may have a predominant sense of fight or flight because their sympathetic nervous system is continuously activated. DPT aims to stimulate the opposite: your parasympathetic nervous system. Activation of this system helps in developing a sense of tranquility and peace in individuals. 
How does Deep Pressure Therapy Help?
Certain populations may benefit more from weighted blankets. This includes individuals diagnosed with anxiety, ADHD, autism, or those who experience insomnia or chronic pain. However, you don't need to have one of these conditions to use a weighted blanket. Research has linked weighted blankets to a deeper and more peaceful sleep in all individuals. Many people have seen benefits from weighted blankets simply because they had trouble falling asleep. And let's not forget, these calming blankets could be a fantastic gift idea.
What brands are available?
Weighted blankets are available at various prices, shapes, sizes, and colors. However, today we will be focusing on our top three recommendations of best value-weighted blankets.
Related: Best Knitted Weighted Blankets | Best Machine Washable Weighted Blankets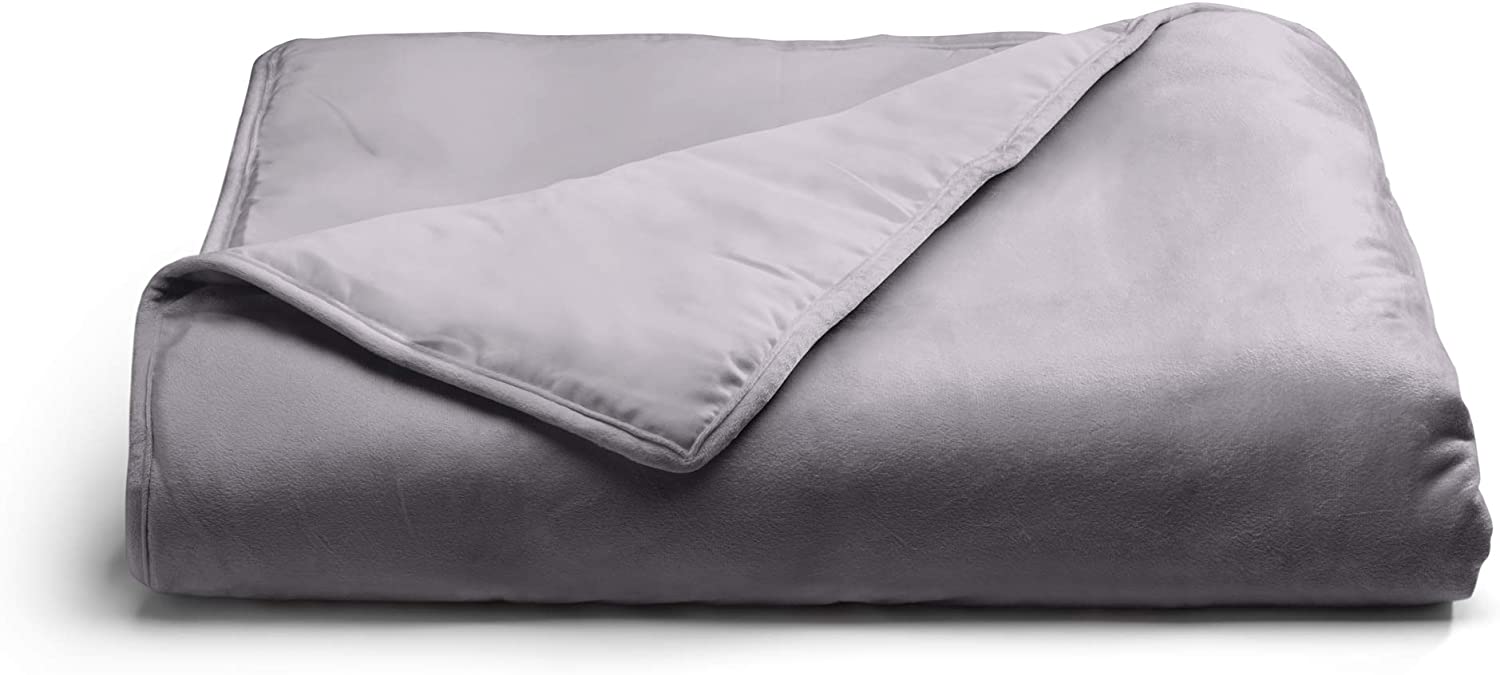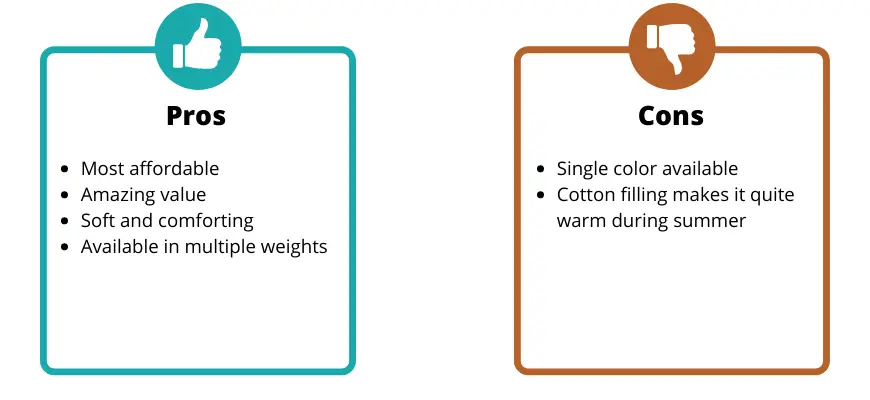 ---
Tranquility weighted blankets innovate the comfort industry with their weighted glass beads in a fiber matrix for maximum relaxation and a smooth texture. Long-term product life is ensured with the ingenious box quilt design, preventing the beads from getting dislocated. The removable cover and the blue cool technology feature ensure a cooling effect when warm and a heating effect when cold. Additionally, it eases washing after spills or accidents. Polyester covers provide a soft texture while having a sturdy blanket life.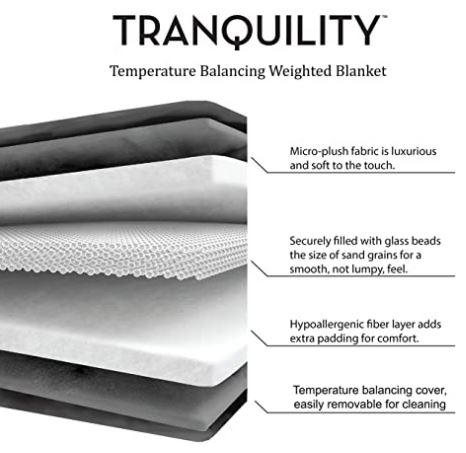 They are available in an ash-gray color with a range of weights: 12lbs, 15lbs, 18lbs, and 20lbs. While being one of the pocket-friendly blankets in the market, they ensure no compromise on quality. For its price, this weighted blanket definitely gives you a great bang for your buck.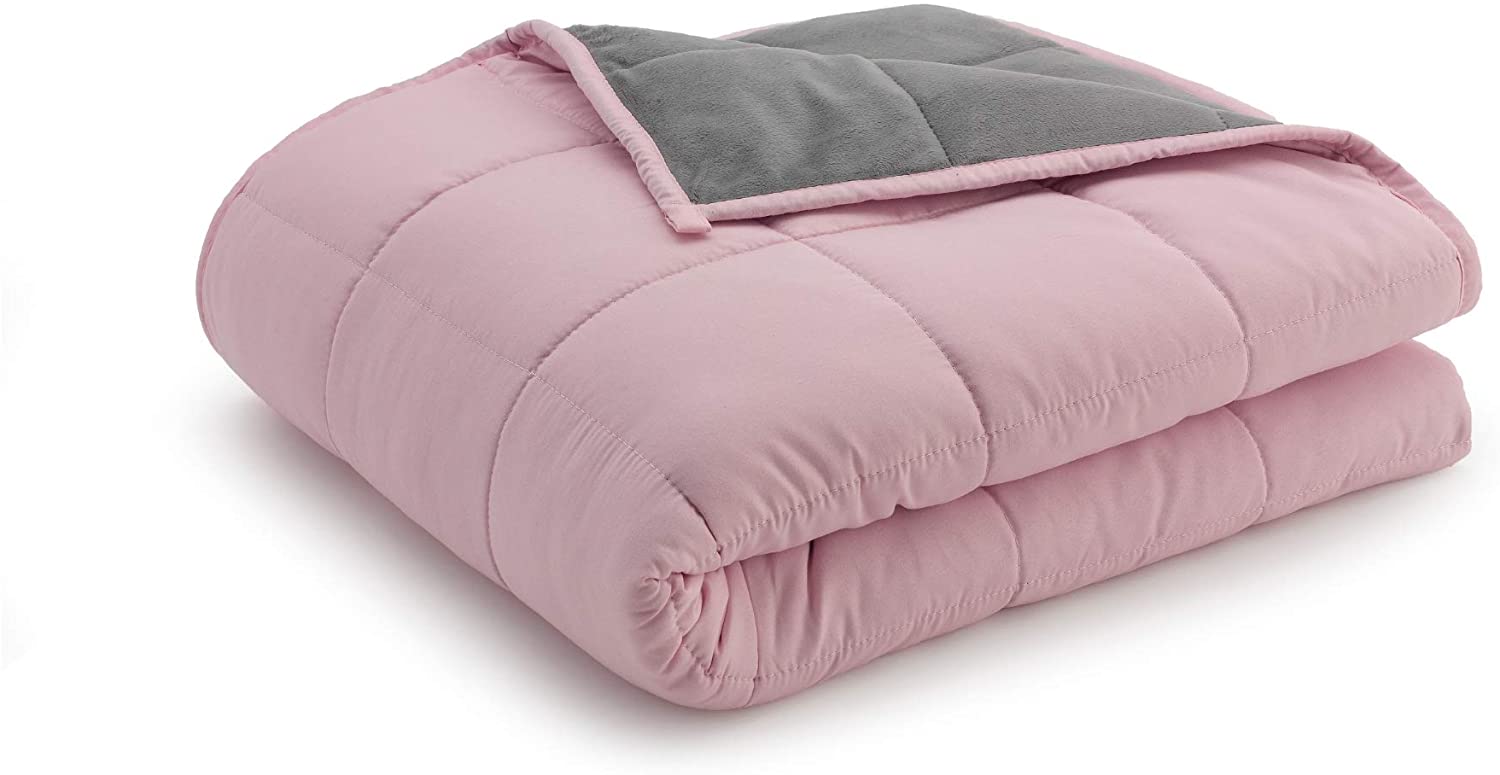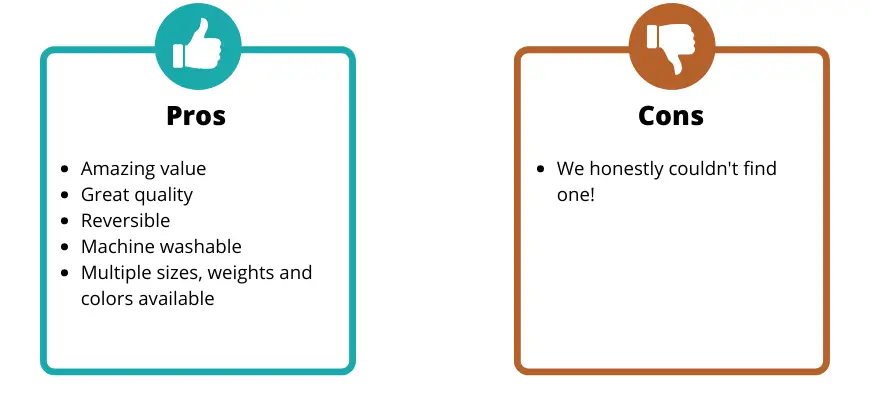 ---
Ella Jayne weighted blankets are one of the luxury options of blankets in the market. It promises to offer something 'extra' to the average comfort of blankets with its weighted glass bead and polyester stuffing. It is box-quilted to prevent the shifting of the beads. This deluxe quilt assures an increase in your productivity, a boost in your sense of wellness, and improved sleep quality. Additionally, it aims to reduce anxiety and help alleviate mood swings while recharging your body. Unlike many other weighted blankets in the market, Ella Jayne is machine wash safe, ideally to be tumble washed on a low setting.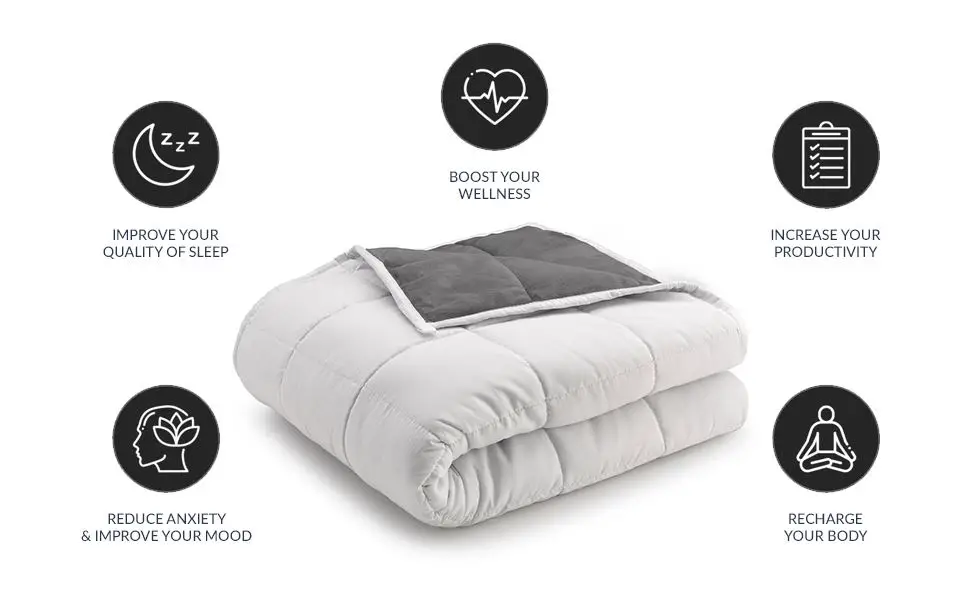 Here's what Nicole had to say about it:
"This blanket is Amazing. The first impression exceeded my expectations. The colors are vibrant. It was easy to wash and tumble dry just like the instructions indicated. I sleep with this blanket most nights when I'm feeling anxious. I will also use it during the day just to lay it over my legs to reduce stress and anxiety. I have gifted my friends and family with this blanket everyone absolutely loves it."

Brittany Vang
This calming blanket comes in weights of 12lbs, 15lbs, and 20lbs, and in an even wider array of vibrant colors such as black, white, grey, pink, and blue.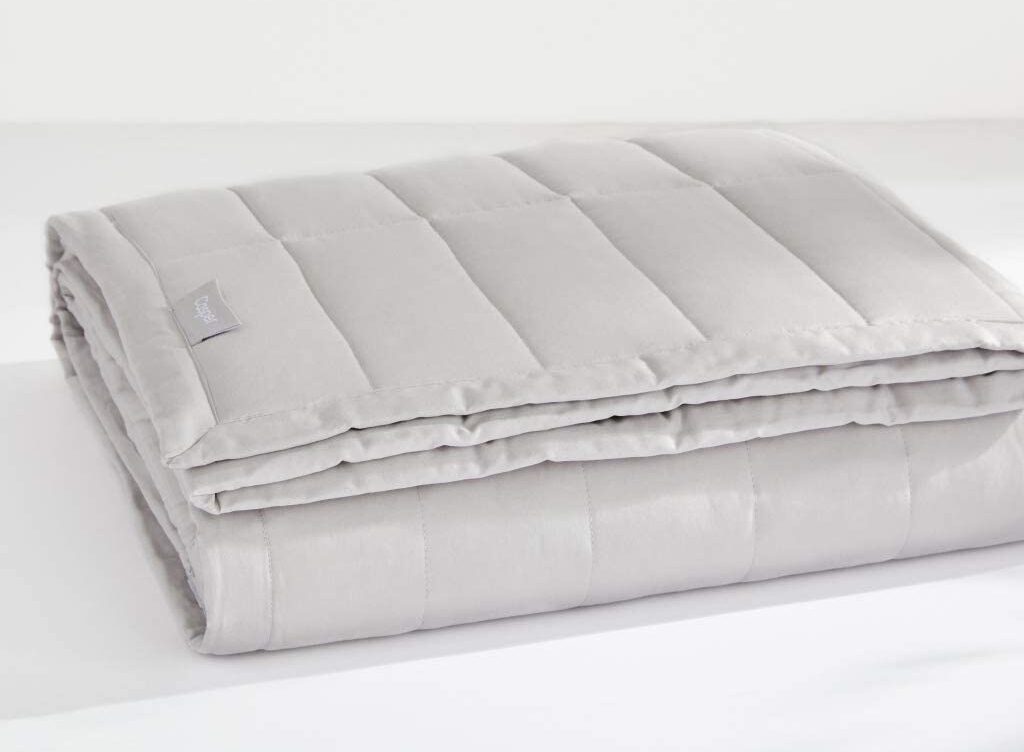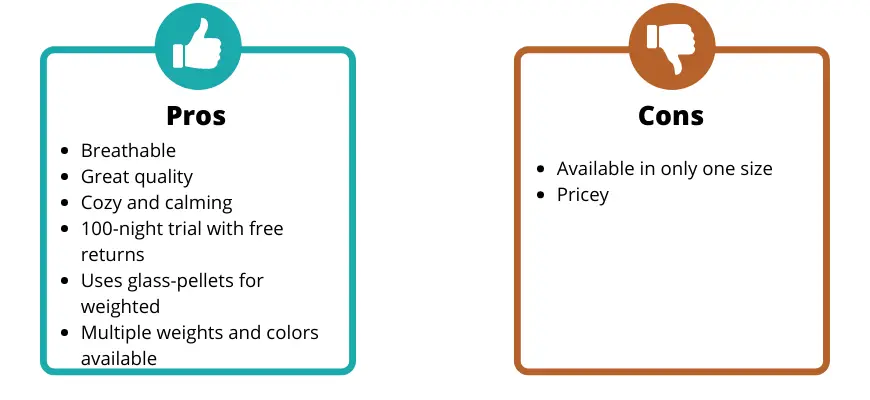 ---
Casper weighted blankets have a unique huggable design with quilted channels inspired to provide optimum performance. This amazing blanket is manufactured with breathable cotton and polyester fibers to ensure a breathable fabric and superior airflow. The air circulates away from your body, ensuring you keep cool on those warm nights.
This is what Tess had to say about the Casper blanket and honestly, we could not have said it better:
They are available in 3 sizes of 10lbs, 15lbs, and 20lbs, and in 3 unique colors of gray, indigo, and dusty pink. Ensuring that you don't compromise on a tailored experience, Casper additionally offers a 100-night free sleep trial with a guaranteed full refund if you are not satisfied. These snooze specialists provide free shipping and return all over the United States and Canada, with exemplary customer service before and after availing their service.
"Honestly get this if you want the best sleep of your life."

Adil Erickson
How to choose a weighted blanket?
When searching for the perfect heavy blanket, you should be clear about who you are buying it for. It is not recommended for children below the age of 2 years. Additionally, you should consult a doctor before buying one for children below 5 years of age.
When choosing a blanket as an adult, it is important to consider your height and weight for appropriate coverage and pressure. The blanket should weigh roughly 8% to 12% of your body weight, with an ideal average of 10% weight of your body.
If you are buying a blanket as a couple, you must consider any height or weight differences between you and your partner.
Which one should you choose?
Weighted blankets are a tried and tested form of at-home remedy for several conditions. If you are looking for a heavy blanket without wanting to splurge a lot, Tranquility's weighted blanket should be your pick. They are definitely one of the most affordable and reliable options available. 
If luxury is what you seek, there can be nothing better than Ella Jayne's Reversible Blanket. It provides the perfect balance of luxury, quality, and value.
On the other hand, if you are not sure if weighted blankets are for you, get Casper's weighted blankets. Their exceptional customer service is available 24/7 to help you solve sleeping needs. Additionally, their 100-day return policy gives you the peace of mind that you can return the product if you feel like it is not helping you.
Our Recommended Choice
Overall, Ella Jayne is the best contender amongst the three, with its median price range, exceptional color choices, commendable fabric, and manufacturing. The quality of manufacturing reflects itself in the product. It weighs enough to encapsulate you into a sense of security while not being too heavy or too bulky. The five lively colors ensure to not only fit into your style but add an extra spark to the room. While other blankets have a strict dry-clean or spot clean policy, Ella Jayne liberates you from such cumbersome worries with its tumble wash feature.
If you have trouble with insomnia, anxiety, Alzheimer's, ADHD, PTSD, or autism or simply have trouble catching quality sleep, you should give calming blankets a try.