Are you ready to get some sound sleep with a heavy comfortable blanket? Sufficient deep sleep is required for good health and productivity. But are you worried it would be too hot to use weighted blankets during summer? In this article, we bring you a variety of cooling weighted blankets to fill your life with peace and comfort to help you enjoy the luxury of a good night's sleep, even during warmer nights.
So, if you are aiming to improve the quality of your sleep and fighting to increase comfort while unwinding at home, a cooling weighted blanket must be on the top of your list.
Why to choose Cooling Weighted Blankets?
A cooling weighted blanket is made with cotton, polyester, or bamboo (moisture-rich material) to control temperature while you are asleep. The fabric helps to maintain thermoregulation and provides a comfortable sleeping temperature. This is in contrast to the usual blankets that tend to be very warm and unbearable in the warmer weather.
What are the benefits of Weighted Blankets?
Weighted blankets carry multiple psychological benefits. Weighted blankets use deep touch stimulation to relax your nervous system. In simpler words, its weight applies pressure on your skin which constantly activates your nervous system. This stimulation boosts the release of serotonin and melatonin in your brain. Serotonin is a chemical that scientists have linked to happy moods, while melatonin is responsible for regulating your sleep cycle. 
Relieve Stress: These blankets help in reducing the feeling of stress and help in improving sleep and energizing your mood. They do it by decreasing amounts of cortisol, your body's stress hormone.
Happiness and Comfortable Sleep: Weighted blankets provide a constant hugging sensation to calm you down while in bed. This sensation helps you relax and boosts the release of happy hormones by your brain.
Beautiful Looking: There has been no doubt that these blankets are super beautiful and eye-catching. These super cozy blankets can add real charm to your bedroom.
Related: Best Looking Weighted Blankets | Best Knitted Weighted Blankets
Here are our trusted recommendations for cooling weighted blankets: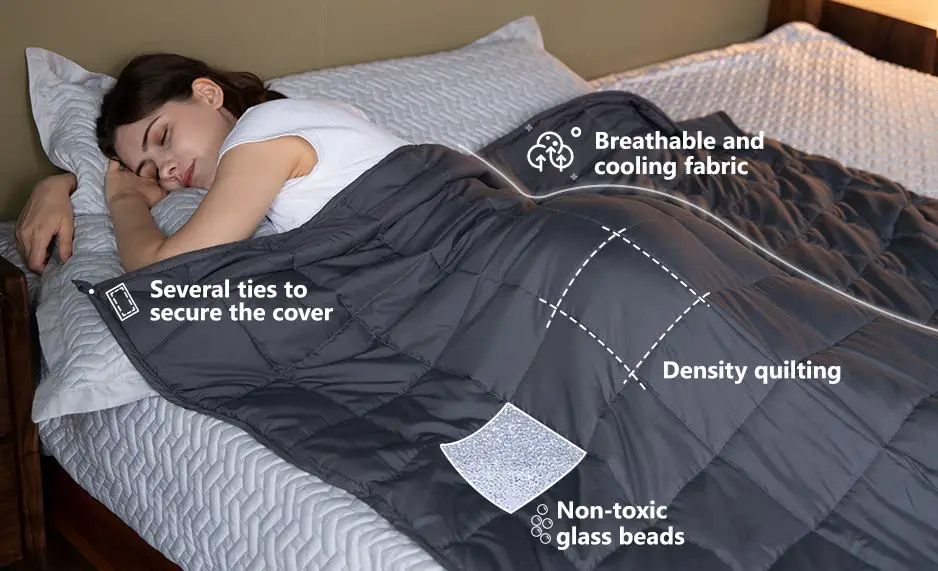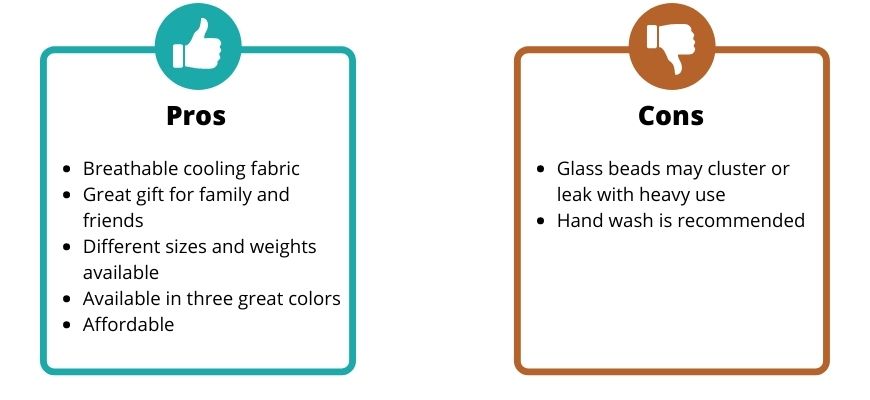 ---
Syrinx Cooling Weighted Blankets bring you a healthy and comfortable sleep. Created with top-rated and breathable fabrics, the weighted blanket is designed specifically to keep the sleeper cool at night while still offering the benefits of a calming blanket. Each blanket has five layers put together with the purpose of keeping the blanket cool to the touch by optimizing airflow. The layers are designed in a way that ensures heat will not be trapped.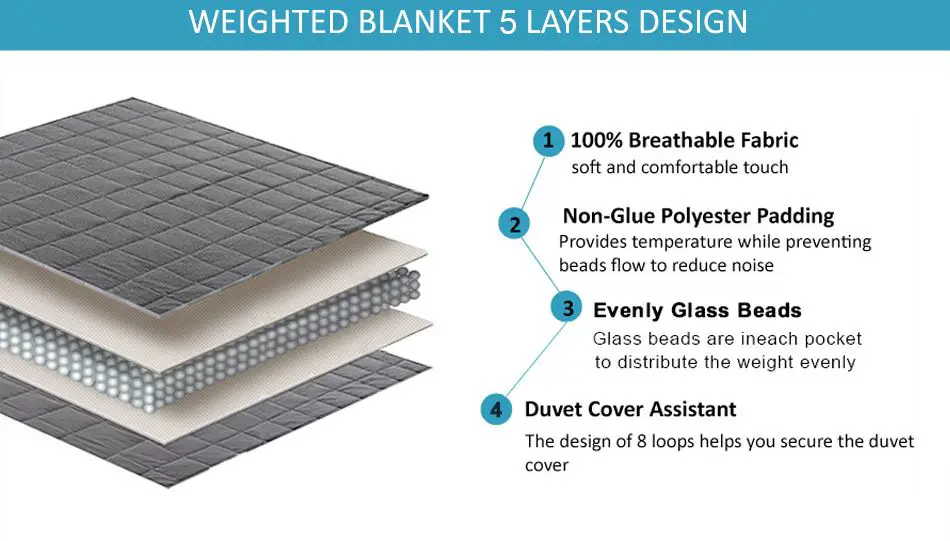 Another feature and benefit of this cooling weighted blanket is that they produce no noise when you decide to turn it over at night to ensure quality sleep and an energetic and refreshing start in the morning. It has been made with 5" × 5" compartments and 2.5-3mm sutures to allow equal distribution of glass beads in every pocket of the blanket.
A customer in Amazon named this product a "life-changing blanket":
"I have a difficult time falling asleep and staying asleep. Not since buying this blanket. I am se dice to temperature and was worried that it would be too hot but it is perfect!"

Shannan O'Connor
One thing to keep in mind about this Syrinx calming blanket is that the manufacturer recommends only hand washing this blanket. To keep the blanket clean, you can use a duvet cover.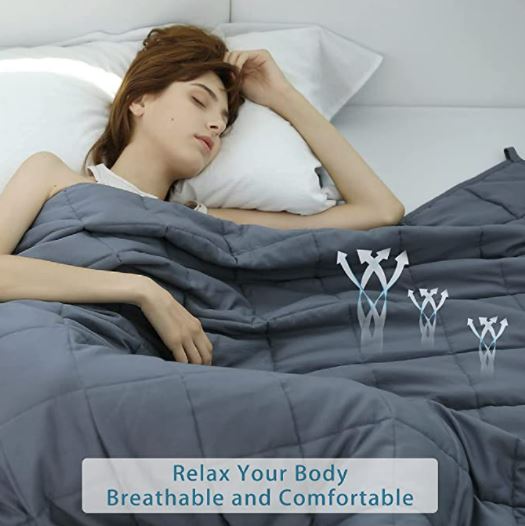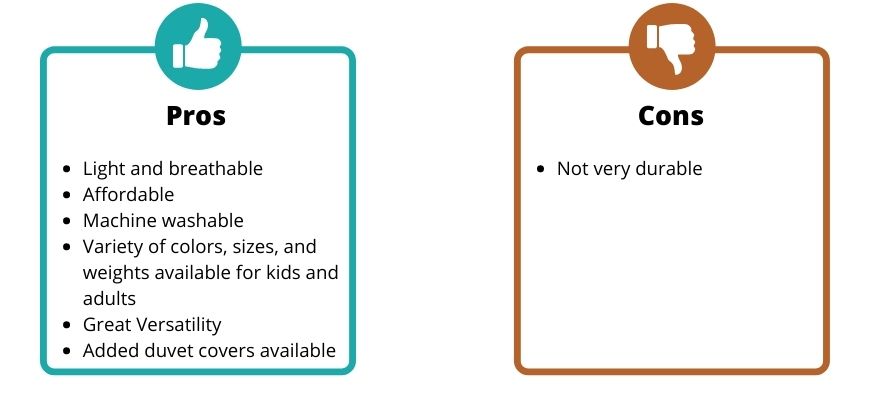 ---
Weighted Idea knows how to design exceptional products, and their cooling blanket is no exception. These blankets can be an excellent sleep companion by solving your sleeping problems. They help you relax your body and get some soothing sleep. What makes this calming blanket unique is that it uses superior breathable fabric. It is a weighted blanket that is suitable and ideal all year round.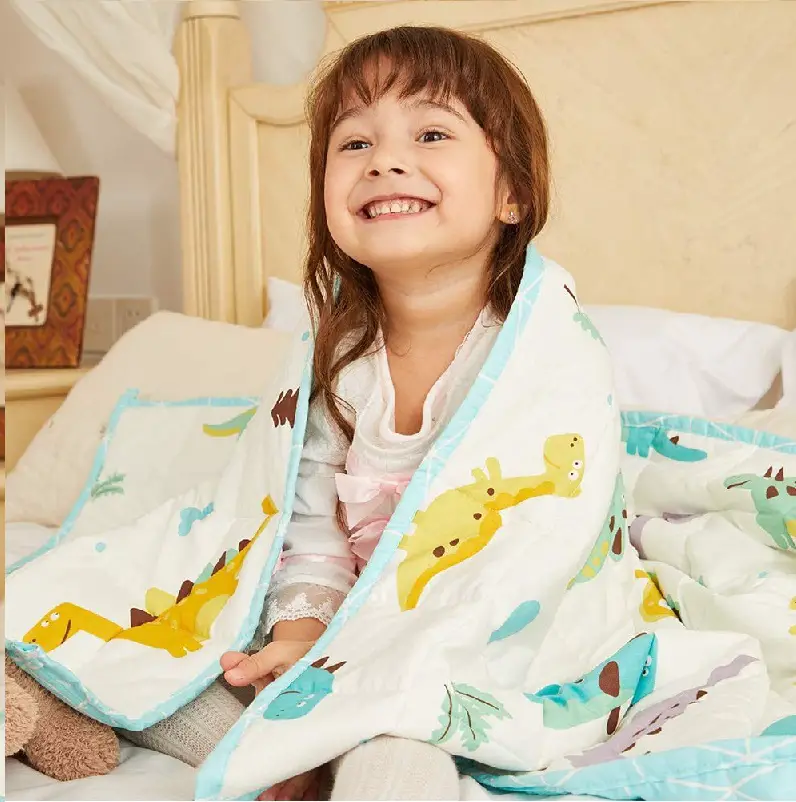 Their super cozy fabrics and hypoallergenic glass beads are put together with precise stitching to help obtain an equal distribution of weight. They also allow the blanket to hug your body, keeping you snug and cool throughout the night.
Not only is this blanket great for sleeping, but it can be used all the time, whether you are reading or working on a couch or chair.
Here is what Lynette had to say about the calming blanket:
"This is the best purchase I've made this year!!! I've worked the night shift they passed 6 years. Sometimes falling asleep is a big problem. I purchased the 20 lb. With this blanket, I can fall asleep in 5 minutes. NO JOKE! You feel snug and relax quickly. I have been raving about this blanket to everyone. Very well made. "

Ishika Hanson (Amazon Review)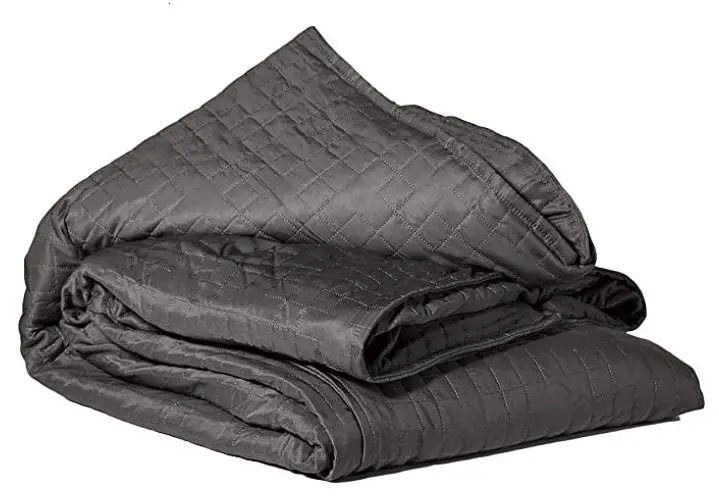 ---
Gravity Cooling Weighted Blankets are among the most durable and reliable blankets on the market, with a 100% cotton shell and glass microbeads. This blanket uses a very similar design and technology as the original Gravity Weighted Blanket except this cooling blanket features a specially designed duvet cover that is made of breathable, moisture-wicking fabric. This unique design makes sure sleepers can reap the benefits of using a weighted blanket while the fabric draws moisture away from the body keeping the sleepers comfortable and cool at night.
The removable cover allows for a quick rinse and machine wash for easy cleaning in case of a spill. Gravity understands that you need time with your blanket, so it offers free delivery, and an easy return policy if you change your mind. At the time of writing this article, it is also currently offering a 30-day free trial.
This blanket is available in 2 sizes, 15lbs and 35lbs, as well as three solid colors, blue, dark grey, and light grey. The larger size allows it to be a couple's blanket, ensuring that you and your partner feel at home. The only downside is that this weighted blanket is more expensive than the other recommendations we provided. But let's keep in mind, Gravity is without a doubt one of the very top brands for weighted blankets.
Following is what a customer on Amazon thinks about the cooling weighted blanket:
"This Gravity cooling blanket is the best purchase I've ever made on Amazon. I've had a couple of other popular brands but had to give them up as they were just too hot to sleep under. I'm now comfortable, comforted and happy every night"

Damian Howe (Amazon Review)
Takeaway
Our team has worked to bring you a variety of the best options when it comes to cooling weighted blankets. We included affordable options as well as the absolute best.  
For an uncompromised and perfect experience, we would recommend you buy the Gravity Cooling Weighted blanket. The blanket simply cannot be matched in quality. Every aspect of it has been refined over time using feedback from customers and is flawless as all Gravity products are. It is an excellent investment and will pay itself off over time.
If you find yourself restricted by budget, or simply want to determine whether weighted blankets are your thing before making a significant investment, go for the ones by Syrinx or Weighted Idea, whoever has your desired color and size in stock.