Weighted blankets have been used in psychiatry clinics to treat behavior disorders, however, now they are also commonly used by many who simply want to relax and are looking for better quality sleep. According to research, people can use weighted blankets for anxiety, poor sleep, and everyday stress. They are also used in therapy for a broader set of circumstances as well, including insomnia, restless leg syndrome, sensory processing disorders, autism, ADHD, and athletic recovery.
How can weighted blankets benefit someone with anxiety?
Weighted blankets are heavier than average blankets. Glass beads, plastic pellets, or chains are used instead of feathers or fiberfill to add weight. Weighted blankets utilize something called deep pressure therapy. The principle of deep pressure therapy (DPT) is to use a firm yet gentle pressure similar to that of a hug or human touch to bring a sense of calm or security. It has been known by scientists that deep pressure tends to relax the nervous system. We often experience the calming effect of physical pressure in our everyday lives through massages, hugs, and comforting embraces. 
Dr. Temple Grandin, one of the foremost researchers and experts on autism and related disorders, established that compression worked to decrease anxiety stemming from autism. This discovery has been used for decades as the foundation for compression devices and therapy used in psychiatric and therapeutic settings.
Related: How Weighted Blankets Help With Anxiety | Best Cooling Weighted Blankets
What are your options?
So you've decided you want to get a heavy blanket for your anxiety or simply for relaxation purposes. Weighted blankets are available in different sizes, shapes, and colors, and we know it is not easy to navigate through the variety to find the best one. Fret not. We will be giving you our top three recommendations for weighted blankets for anxiety!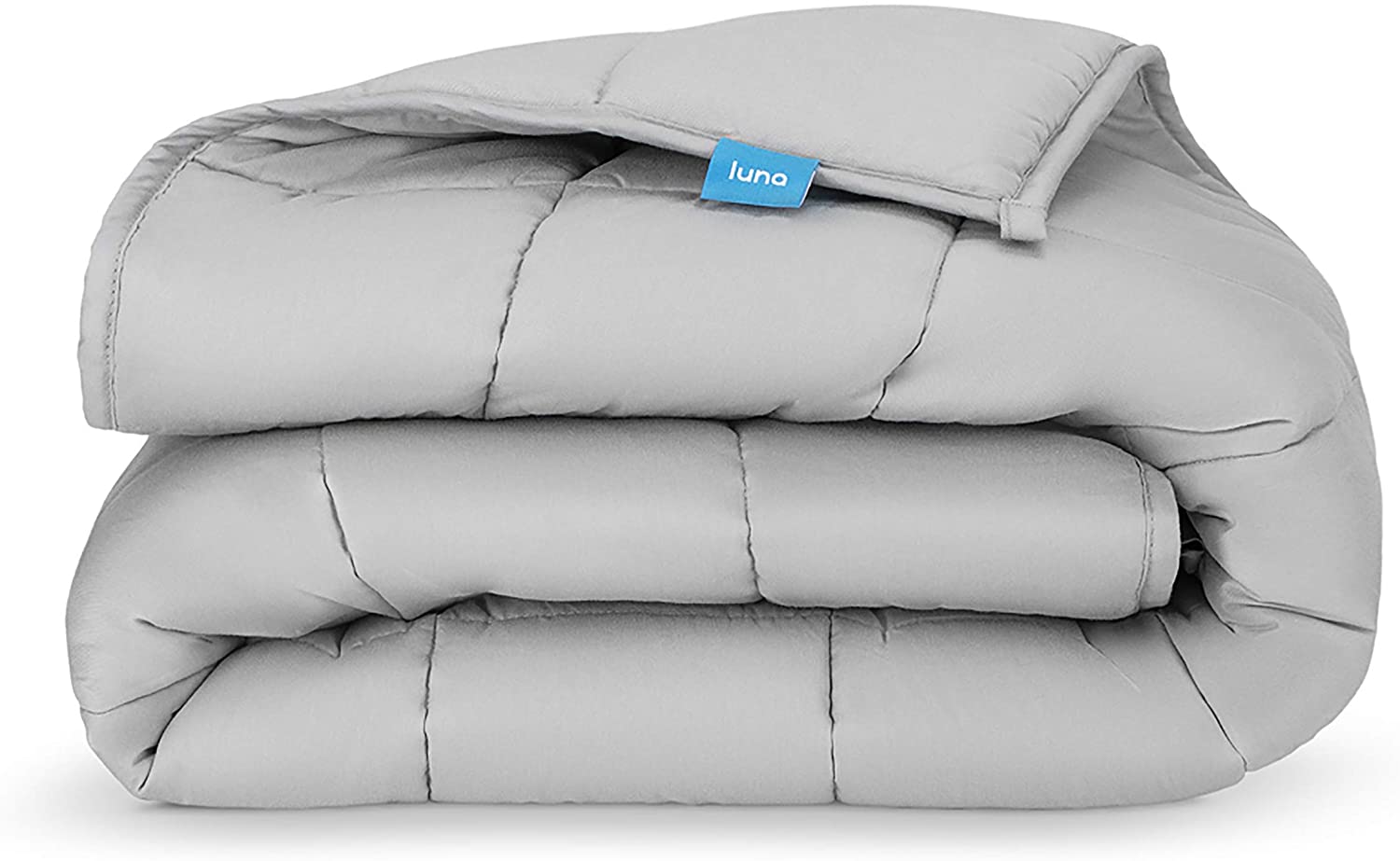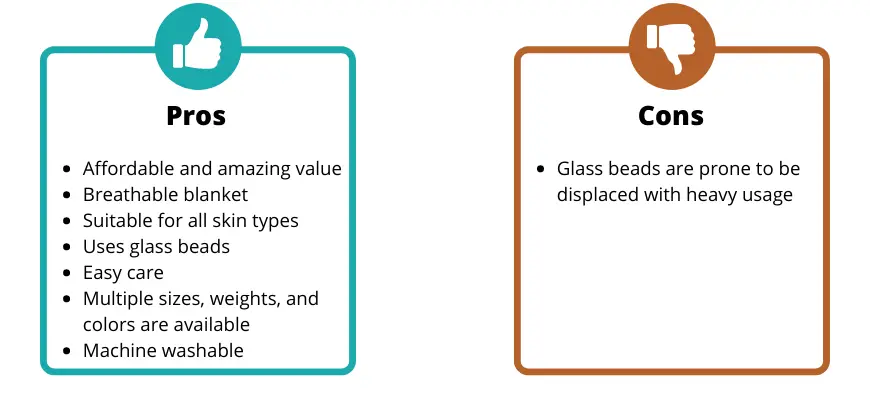 ---
The Luna blanket encompasses everything someone ever wants in a weighted blanket. It's soft and covers you from chest to toes. It doesn't feel overwhelmingly heavy, and the weight does not shift within the blanket. It also comes with loops for an optional outer cover. It is machine washable and is breathable enough not to make you sweat.  
This blanket helps reduce cortisol levels allowing you to bring your stress under control. Cortisol in our bodies causes anxiety and stress. Along with the fight and flight response, excess cortisol levels also wreak havoc on your immune system and cause depression, anxiety, and insomnia. 
They are made of a hundred percent cotton 300-thread count and contain layers of 100% polyester, microfiber, and glass beads to add weight. The Luna blanket is also OEKO-TEX 100 certified and hypoallergenic, making it suitable for all skin types. Standard 100 by OEKO-TEX is one of the most trusted certifications in the world which tests raw materials, intermediate and end products (at all stages of production) for harmful substances. It is a symbol of customer confidence and high product safety.
As compared to other blankets, Luna blankets are considerably affordable.
Here's what Cecici had to say about her purchase:
"I have bad anxiety and I can never sleep. As soon as I got it I took a long nap and woke up hours later. I never even napped after finals in college, this knocked me right out!"

Cecici hart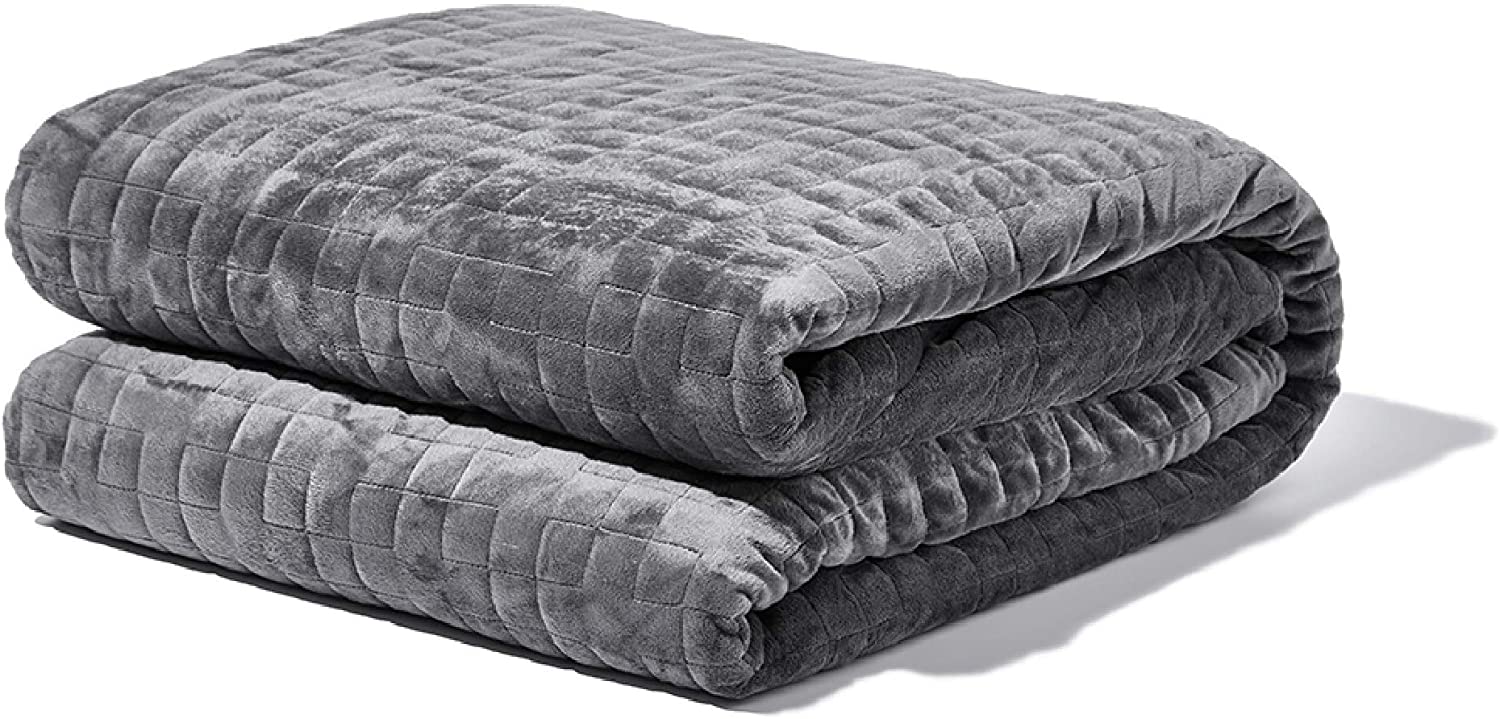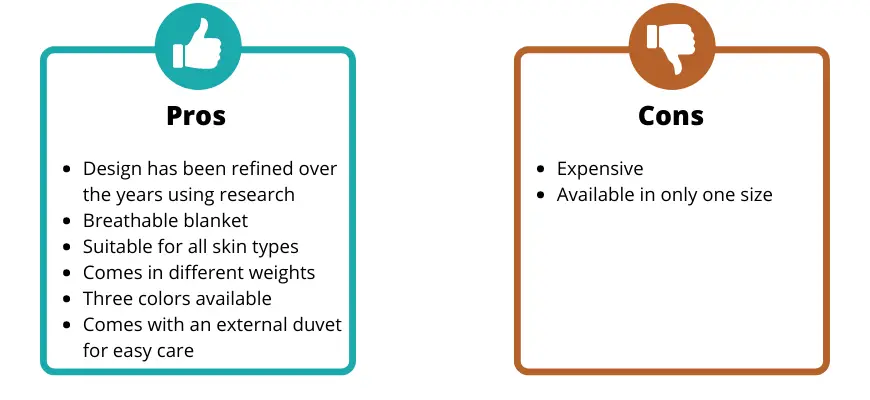 ---
The Gravity Calming Blanket is a superior grade weighted cover that is one of the first few anxiety blankets available on the market. The most recent generation of Gravity Blanket has been refined over time while keeping the blanket unique look and feel. 
The constant pressure applied by this heavy blanket on your body stimulates your nervous system. This stimulation causes your parasympathetic nervous system to be activated. The parasympathetic system does the opposite of what cortisol does. It slows down your heart rate, promotes digestion, and allows your body to slow down so that you can relax. This feature makes it ideal for soothing someone with anxiety. In fact, 76% of users reported falling asleep faster and feeling more rested upon waking up in the morning.
The exterior duvet cover consists of a super silky micro-fleece. On the inside, the weighted blanket consists of cotton and fine-grade glass pellets. The blanket is kept in place inside the duvet cover by a proprietary new, redesigned zipper system. Gridded sewing on the blanket guarantees the glass pellets remain consistently distributed throughout the blanket during use. The duvet cover of this blanket is machine launderable, while the inner blanket cover is to be hand-washed.
The blanket is available in 15, 20, and 25lb choices so that you can choose the best one for your body weight. In case you're wondering, you should pick the one closest to ten percent of your body weight.
Matt Arhens, a customer-reviewed the blanket by saying:
  "I'm tickled, a friend recommended this item to me as I suffer from severe anxiety and panic disorder along with insomnia and this blanket truly helps with these conditions. I was in doubt when purchasing the Gravity Blanket due to the price but I have to admit it's well worth the money spent. I'm glad I made this purchase and it's super soft as well."

Matt Arhens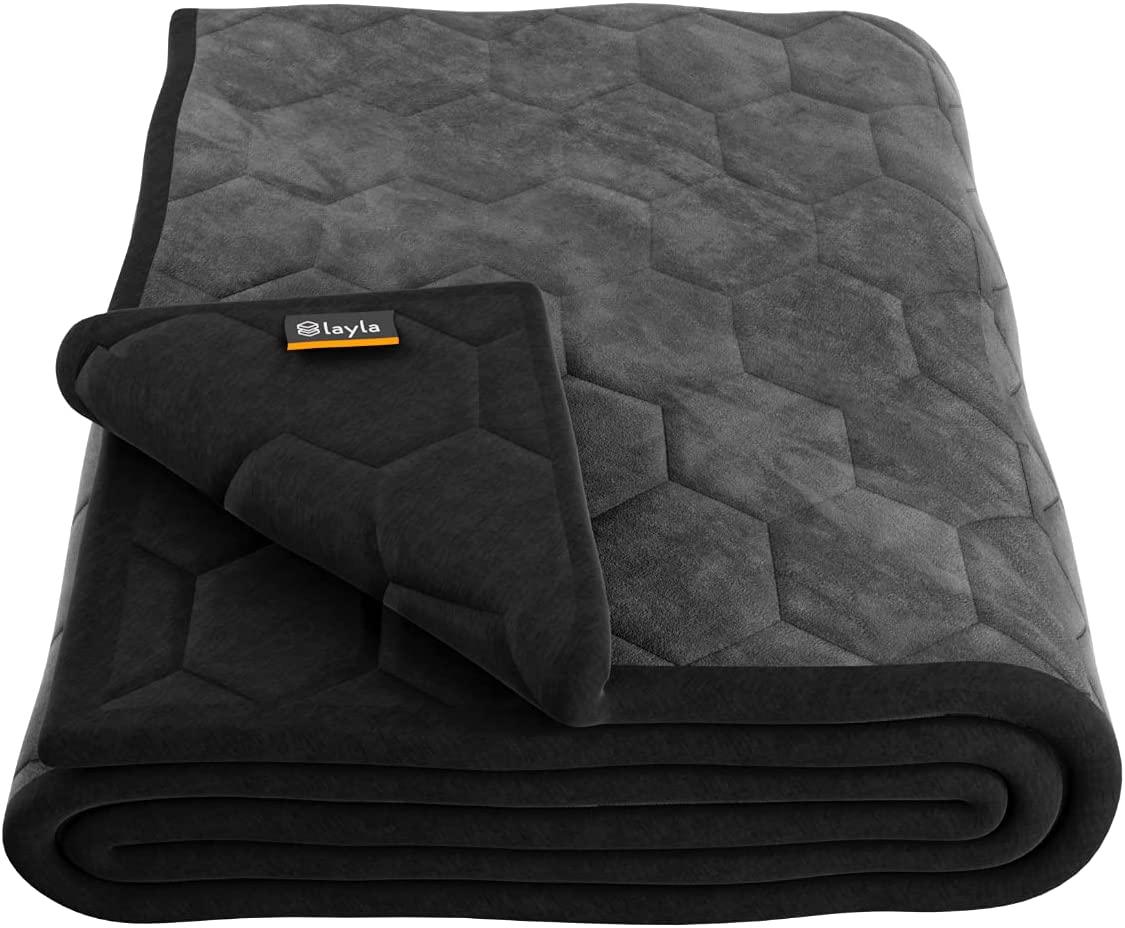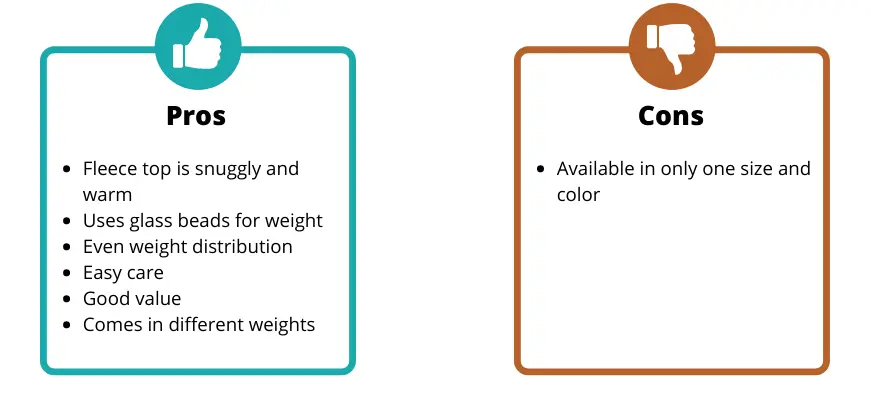 ---
The Layla weighted blanket has a unique texture on both sides. One side is made of a soft, plush material that feels super snuggly and warm (I wouldn't get this for warm climates, though, unless you keep your house chilled). On the other side, there's a 300-thread count, 100% cotton knit, which is incredibly forgiving when it comes to pet hair and messes. 
By simulating a hug or comforting embrace, this blanket causes your brain to release serotonin and oxytocin. Both of these hormones work to elevate your mood, produce feelings of security and calm, and curb stress and anxiety.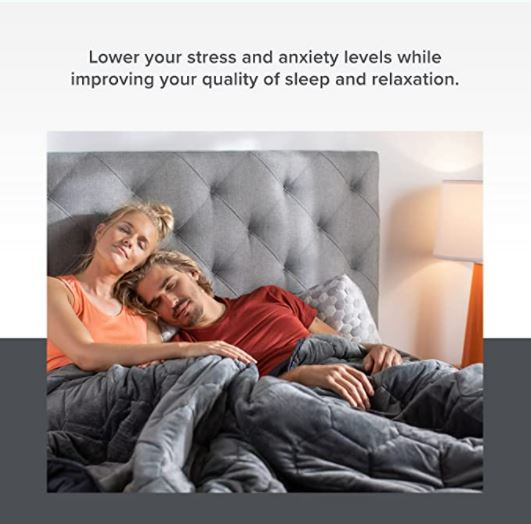 As for actual specs, the Layla weighted blanket comes in three sizes: twin, 15 pounds; queen, 20 pounds; and king size, 25 pounds. It's filled with high-density glass beads, but you can't hear or feel individual beads in this blanket like you can with some. The Layla blanket has hexagon stitching versus the standard square stitching, which looks more stylish, too. 
How to choose a weighted blanket?
If you're buying a weighted blanket for a child, take note of their size, weight, and age. Parents should not use weighted blankets for children under two years of age and should consult a doctor if you're buying a blanket for children under five years of age.
Choosing a blanket for an adult is comparatively easy. It is important to consider heights and weight dimensions for appropriate coverage and pressure. It's suggested to purchase a weighted blanket that is 10 percent of your body weight or 10 percent of the person's weight who you are buying it for. This criterion ensures that the weighted blanket is the right weight for your body and will provide you with the best benefits. If you are purchasing a blanket as a couple, it is recommended to pick a blanket that is 
Our Best recommendations for weighted blankets
For anyone looking to purchase the best-weighted blankets for anxiety, we would recommend buying the weighted blanket by Layla as it provides great value by striking a balance of value, functionality, and price.
However, if you are on a budget or want a taste of weighted blankets for the first time, Luna weighted blankets should be your pick, as they are affordable, reliable, and dependable.
In case you want nothing but the best, your pick should be the Gravity Blanket. Its quality, material, and craftsmanship are simply unparalleled.