The greatest weighted blankets add just enough weight to your body to imitate gentle hand-on pressure, which can help you and your nervous system relax. Weighted blankets, which usually weigh between 5 and 25 pounds, give moderate, steady pressure as people sleep and help to reduce anxiety and insomnia. 
If someone suffers from anxiety, feels especially worried, or seeks a better night's rest, a weighted blanket would be a wonderful place to start. Most weighted blankets are packed with plastic or glass beads, which add up to 25 pounds of additional weight to the blanket as a whole. 
If after hearing all the benefits you've pictured a dreary-looking stiff blanket, you couldn't be more wrong! There is a huge variety of weighted blankets available and there are many beautiful options that can contribute to the aesthetic of your bedroom. Today, our editors will be picking and presenting the three best-looking weighted blankets available!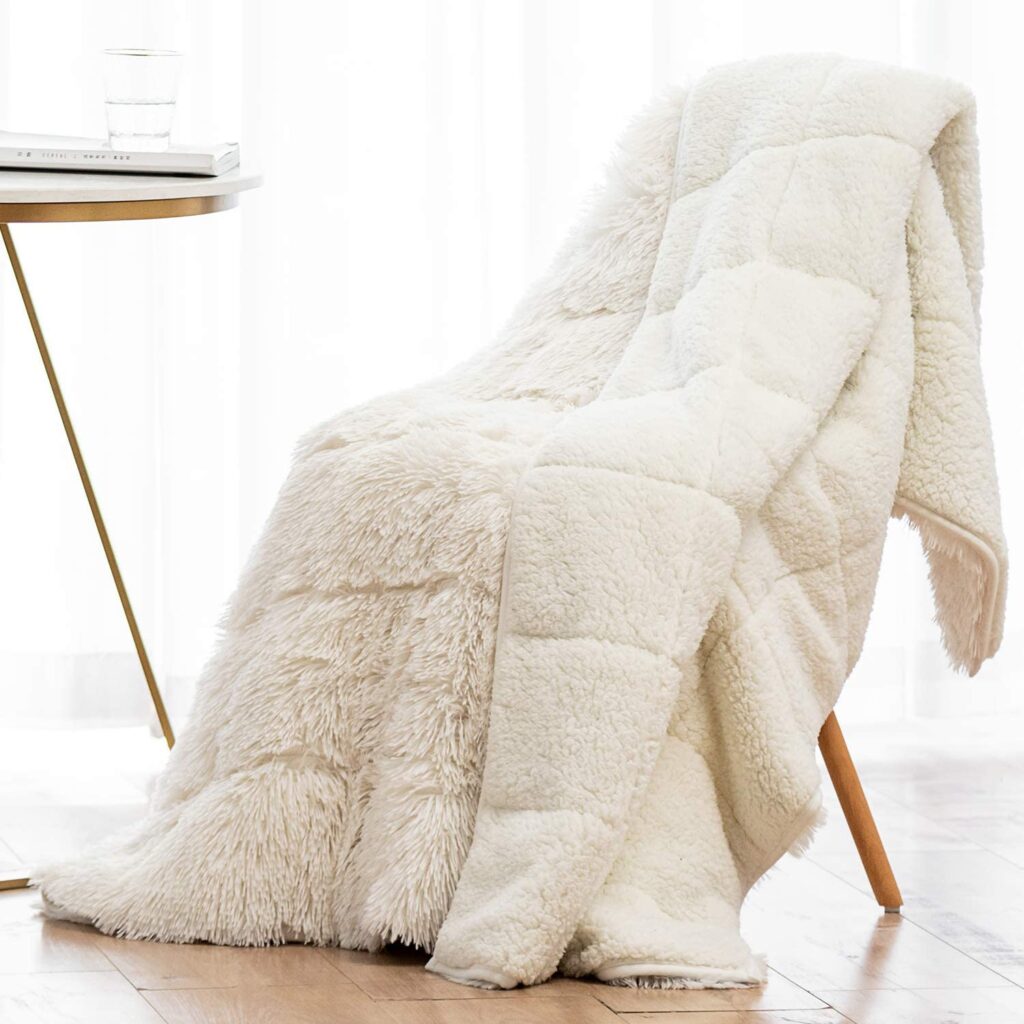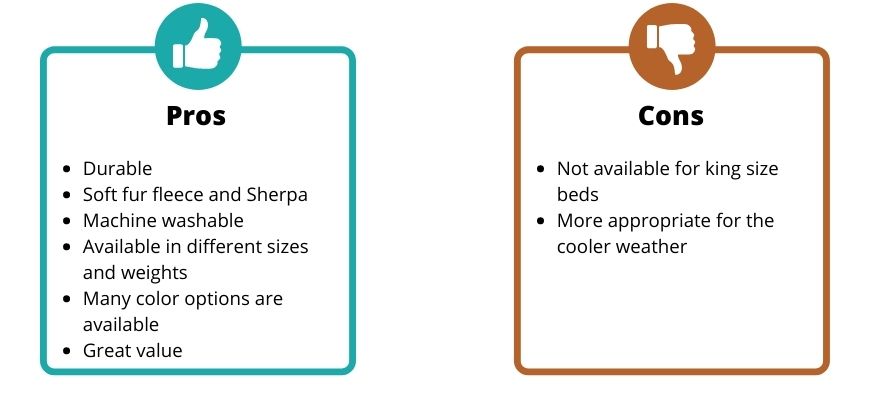 ---
The brand new Wemore's Shaggy Faux Fur weighted blanket blends extraordinary smoothness and softness with extreme warmth. The soft fur PV fleece top and high-end 220 GSM Sherpa reverse are stitched together with decorative trimming for a clean look and increased durability. Wemore's shaggy fur weighted blanket covers you in exquisite warmth and coziness for a restful night's sleep and enjoyable leisure time. 
This luxurious weighted blanket steals the show everywhere it goes, thanks to its silky fur top. It is definitely the most luxurious weighted blanket. The luxurious fluffiness and look of this blanket take your home's aesthetics to the next level.  
Wemore's comfortable plush Sherpa blanket is painstakingly created with a seven-layer design to provide proper weight distribution and minimize the risk of beads leakage. It is made with premium material under strict quality supervision. Using the industry's latest stitching processes ensures maximum durability. 
The cozy fur PV fleece top provides remarkable smoothness and softness, while the premium Sherpa reverse provides maximum gentleness and warmth, promoting deep and natural slumber.
To top it all, this blanket is machine washable and comes with a guarantee that its color will not fade.
Here's what a customer on Amazon had to say about this super-soft weighted blanket:
"The majority of weighted blankets are stiff and scratchy, so you'll need a cover to keep them comfortable against your skin. This one isn't like the others. One side is very soft, while the other is soft yet shaggy. At the same time, the blanket keeps you cozy, warm, and comfy."

Abi Espinosa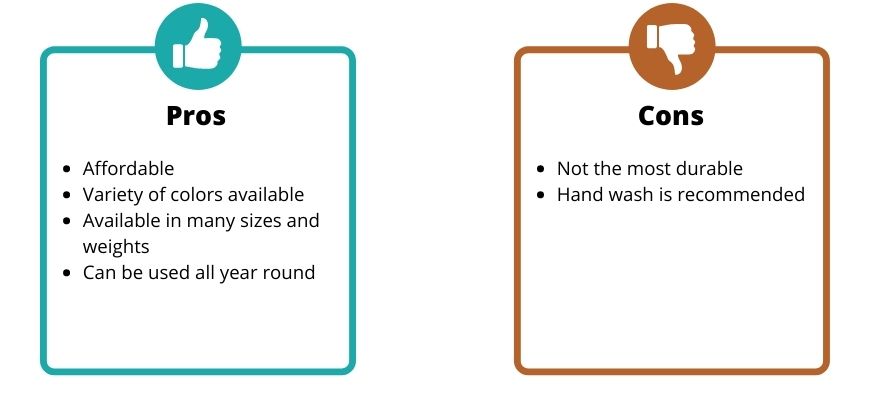 ---
A weighted blanket can help you in overcoming sleep issues. Both adults and children can use a weighted blanket to relax their bodies, enhance their sleep, and wake up refreshed and energized. 
The Weighted Idea weighted blanket is made using very soft fabric and non-toxic glass beads. Precision stitching prevents glass beads from leaking out of the pockets, ensuring that the glass beads are evenly distributed all the time. These blankets are also great for use all year because of their enhanced breathability. This weighted blanket may be utilized not just while sleeping but also when reading or working; simply drape it over your bed, sofa, or wherever you like. 
And if you're stumped for ideas for presents, the Weighted Idea weighted blanket is a great option for any holiday or special occasion. Weighted Idea weighted blankets come in various colors, styles, sizes, and weights to fit the needs of people of all ages. 
They are surprisingly affordable as well. Weighted Idea's weighted blankets have gathered an energetic fanbase. Here's a review of a delighted customer:
"This is the most excellent buy I have made this year!!! I've been working the night shift for the past six years. It is difficult to fall asleep at times. I bought the 20-pound bag. I can fall asleep in 5 minutes with this blanket."

Aalia Patton
Pros
Top-notch quality
Machine washable 
Reversible: suitable for all seasons
Available in many sizes and weights
Durable
Includes a carry bag for traveling
Cons
Only one color is available
Pricey
---
For maximum versatility, OMYSTYLE weighted blanket is designed with two different sides. One side consists of Tencel fabric, which is composed of 100 percent natural eucalyptus fiber. This fabric is smooth to touch and is known for its cooling, making it ideal for hot and sweaty sleepers. The other side is made of 330GSM plush material, which is softer and warmer than ordinary cotton and keeps you warm during cold winter evenings. This feature makes this blanket great for use around the year.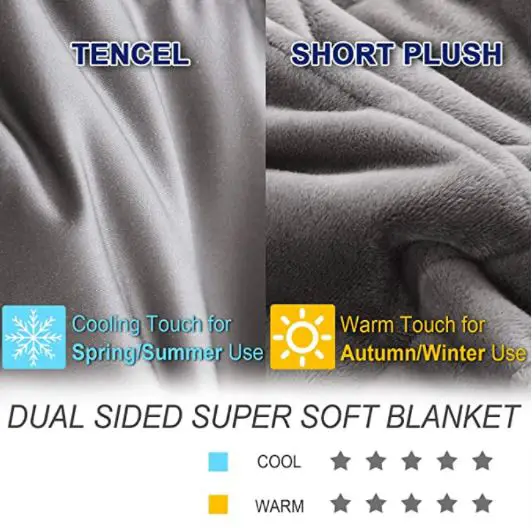 The glass beads in this blanket are kept in place using double-thread stitching. Double stitching divides the blanket into smaller pockets, ensuring that the glass beads are properly distributed, and there is no noise when you move around at night, providing a pleasant, comfortable night's sleep.
The blanket's pressure gives you the sensation of being held or swaddled. This weighted blanket is superior to the original one because it has two extra breathable cotton layers between the uppermost layer of fabric and the non-glue polyester cushioning. These layers allow for maximum adaptation to your body's form and temperature management.
This heavy blanket comes with a beautiful packing case for convenient transport, storage, and travel, and may also be given as a meaningful present. With the company's 2-year warranty you can rest assured of its longevity.
One of the happy customers gave a review on this super soft and high-quality weighted blanket:
"My loved ones suggested a weighted blanket since I suffer from sleeplessness. I conducted some research and found this one met all of my criteria. I got it promptly, and my entire family tested it out and fell in love with it."

Gloria Hamer
Conclusion
We highly recommend the weighted blanket by Wemore Shaggy to anybody searching for a great-looking weighted blanket with the best value.
On the other hand, if you're on a budget or want to try weighted blankets for the first time, the weighted blanket by Weighted Idea would be your pick because they're inexpensive and provide great bang for your buck.
If you want the best, the OMYSTYLE Blanket should be your choice. The blanket has top-notch materials, craftsmanship and specifications.