Mattresses have a major impact on the quality of your sleep and your health. A well-slept person is usually a healthy and active person. It is important to consider several factors when looking for the best mattress.
In addition to affecting your health and sleep patterns, a mattress is also an investment. It is not something we like to spend money on time and again. When investing in a mattress, we want it to last well for at least some time so that you can enjoy the best value for money.
To ensure you get all of the above and lots more out of your purchase, we have outlined the factors to consider for the best mattress. Keep reading below!
What is Your Ultimate Requirement? Extra Soft, Soft, Firm, or Extra Firm?
Remember, one of the key factors behind the comfort and support a mattress provides is its firmness. Stores today offer mattress options with varying levels of firmness, such as:
Another thing to remember is that a soft mattress may not be as soft as you want, and a firm mattress is not as firm as you need. We all have different comfort preferences, and identifying yours will help you choose a firm mattress.
It would help if you considered things like:
Do you sleep on your stomach or back?
What is your typical sleeping style?
What is the recommended mattress for different sleeping styles?
Choosing the best mattress becomes easy when you go with essential information on all the above points. It would also be a great idea to refer to the firmness scale for further help.
Does a Particular Mattress Structure and Type Appeal to You?
There are many mattresses that you can find in the market, and choosing the right one can be overwhelming. Hence, you must learn the basics of each type before you hit the stores, ensuring that your prior knowledge helps you choose the appropriate type for your needs.
Innerspring- these mattresses have a support system featuring a coil base and more layers. There is no pressure relief in these mattresses, but they do have a certain level of support due to the coils. The primary features of innerspring mattresses include limited isolation of motion and a bouncier feel.
Foam- this mattress type contains no coils but only foam. Many opt for these because of the more-than-average contouring it provides for the body. Moreover, foam mattresses offer motion isolation and pressure relief. These are great for couples and side sleepers.
Hybrid- this mattress type combines two features: a comfort system from foam and innerspring core support. You might find a short layer of coils in some, while others can include latex or foam. These mattresses offer a degree of bounciness and some contouring too.
Airbed- the core support in these mattresses consists of an air chamber. A remote or smartphone controls the pump built into the mattress. With this, you can inflate or deflate the air out of the mattress. This mattress gives you the best firmness to flexibility ratio.
How Many Layers Does Your Mattress Have? Accommodation!
To make sure you are picking the best mattress to use, you should also consider the number of layers it possesses. Layers, in this case, represent density, weight, and thickness. As we mentioned above, thicker mattresses tend to offer more support, especially when lying flat against the bed frame.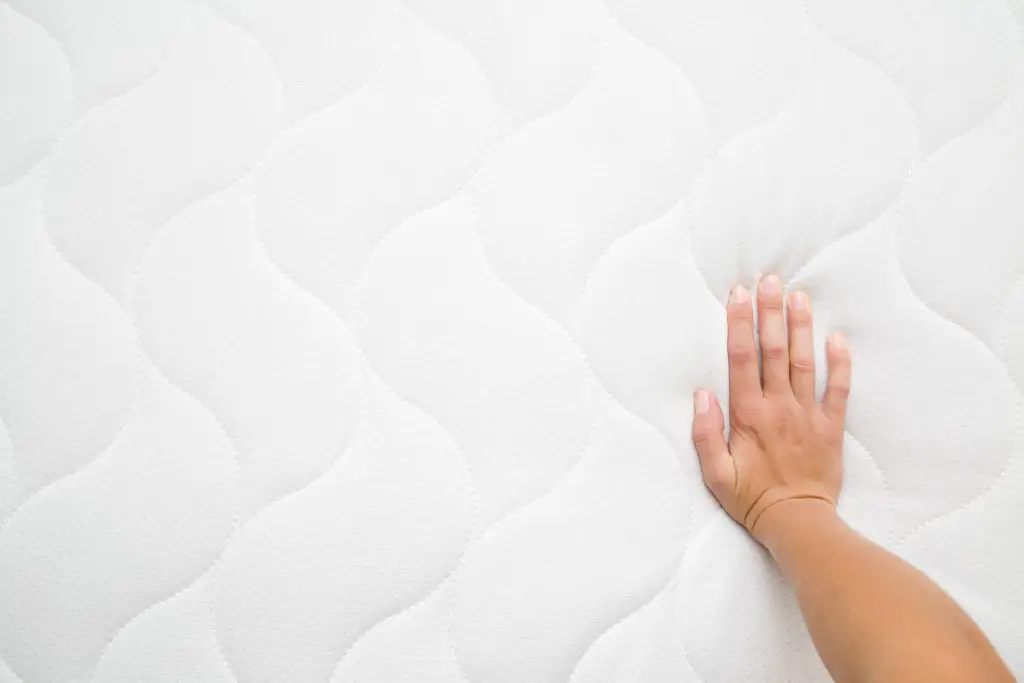 There are three kinds of comfort layers, including:
The top layer of a mattress is typically the soft plushy fabric that feels silky and luxurious on your skin. The best mattress will always have a viscose rayon or polyester top layer that features plush on the inside.
The second layer is the one that adds support to the sleeper's body. You will typically find the second layer in foam mattresses, creating the necessary distinction between the comfort and support layers underneath.
The third is the high-density or dense core layer that lends stability and shape to your mattresses. It lends support to your entire body as you lay down.
Mattresses of average height typically feature one or two comfort layers at most. The taller mattresses can contain three or more. The point is to choose a mattress that aligns with your bed's height and does not make it look unnaturally or uncomfortably high. If your bed stands at a tall height, you should select a mattress with an average height. However, if your bed has shorter legs, you could opt for three or more layers for added comfort.
Are You Looking for the Best Mattress within a Budget? Consider the Size!
Considering the total square footage of the mattress is also important, especially if you're working within a budget. Hence, you need to factor in how many people will share the mattress and the space you have.
You must also decide why you're buying a mattress. Do you want more room to sleep on, greater comfort, do you have special orthopedic needs, and so on. By listing down all these factors, you will be able to pick a size just right for the best mattress.
Do you want the mattress to complement Your Physique? Consider its Height!
This is another essential factor that many mattress buyers overlook. You will typically find mattresses of two heights: 12 inches and 18 inches. If you opt for a higher mattress, then you must note that with the sheets and pillows, the total volume and height will increase even more. A higher mattress also means that the pillows and sheets will be higher in relation to the users.
Secondly, you may purchase the higher mattress without measuring the height of the headboard of your bed. As a standard rule, the headboard must be:
Fourteen inches high above the top of the mattress for twin beds
Twenty-eight inches high than the mattress top for queen beds
Fifty-eight inches high for king beds
If all the factors work in favor of a thicker mattress, only then should you opt for a higher one. Rest assured, higher mattresses provide greater support, more cushioning, and more relief for pressure points.
The Bottom Line
The best mattress can be tricky to find if you don't know what to look for. It is important to learn about the essential features and factors that ensure a mattress is extremely comfortable, supportive, and ideal for your sleeping needs.
Along with considering essential things like the mattress type, height, size, level of comfort, softness, or firmness, you should also consider its price and warranty. With the many options available, it can be easy to pick the wrong mattress type and end up with an uncomfortable product.
After considering the above factors, picking the best mattress for your needs will become much easier. Here's to peaceful nights of sleep!